The second quarter of 2019 started with a bang for OpsRamp, with recognition from two independent analyst firms, 451 Research and IDC. Three recent analyst reports highlighted OpsRamp's modern digital and IT operations management platform for dynamic performance insights and maximum visibility. Our inclusion in these reports explains the growing need for a unified digital operations command center that can combine real-time IT asset discovery, native infrastructure monitoring, predictive insights, and smart escalation policies in a single platform.
451 Research Lists OpsRamp as an ITOA 2.0 Vendor
451 Research analyst, Nancy Gohring, recently published a Market Impact report, In monitoring, it's about bringing together all the data. The report shares how performance management tools are combining machine learning, big data analytics, and open ingestion/data export frameworks to analyze the volume, variety, and velocity of IT operational data. This new breed of IT operations analytics (ITOA 2.0) vendor helps enterprises "gather data from across their IT environments and run advanced analytics across that data for a variety of use cases."

The 451 Research report highlights OpsRamp as an innovative ITOA 2.0 platform that delivers dynamic insights for digital experience management. Here are three ITOA 2.0 capabilities that OpsRamp provides for identifying and resolving problems across modern IT environments:
Topology Awareness. The report calls out topology awareness as "key to identifying when a series of events are related to the same root cause." OpsRamp's network topology maps and service groups let IT teams gain impact visibility and service context for business-aware hybrid infrastructure management. OpsRamp presents real-time dependency relationships for business-critical services and underlying infrastructure resources, so that incident managers can troubleshoot and restore services promptly.
Data Centralization. ITOA 2.0 vendors are "analyzing operations data collected from all components of the stack" to prevent IT teams from drowning in alerts and deliver superpowers for rapid root cause(s) diagnosis. OpsRamp's big data platform for service-centric AIOps offers proactive insights for IT event management by combining native instrumentation with external data sources for responsive incident management.
Openness. ITOA 2.0 companies should be "open to analyzing data collected by their customers' tools of choice, even if those tools are made by competitors." With enterprises using different point tools for server, storage, network, application, database, and cloud monitoring, OpsRamp delivers operational flexibility and rapid turnaround with an integrations ecosystem that aggregates, analyzes, and contextualizes operational data across different silos and domain-centric monitoring tools. OpsRamp also integrates with popular open source applications, infrastructure and management tools, so that enterprises can leverage the power of open source technologies in their environment.
IDC's Market Glance Reports Highlight OpsRamp for Multi-Cloud and Cloud Native Performance Management
Global analyst firm, IDC included OpsRamp in two recent Market Glance reports for Cloud System and Service Management and Container Management. Each Market Glance report provides a quick outline of the market landscape, key technology vendors to consider, and offers a clear snapshot of different market segments.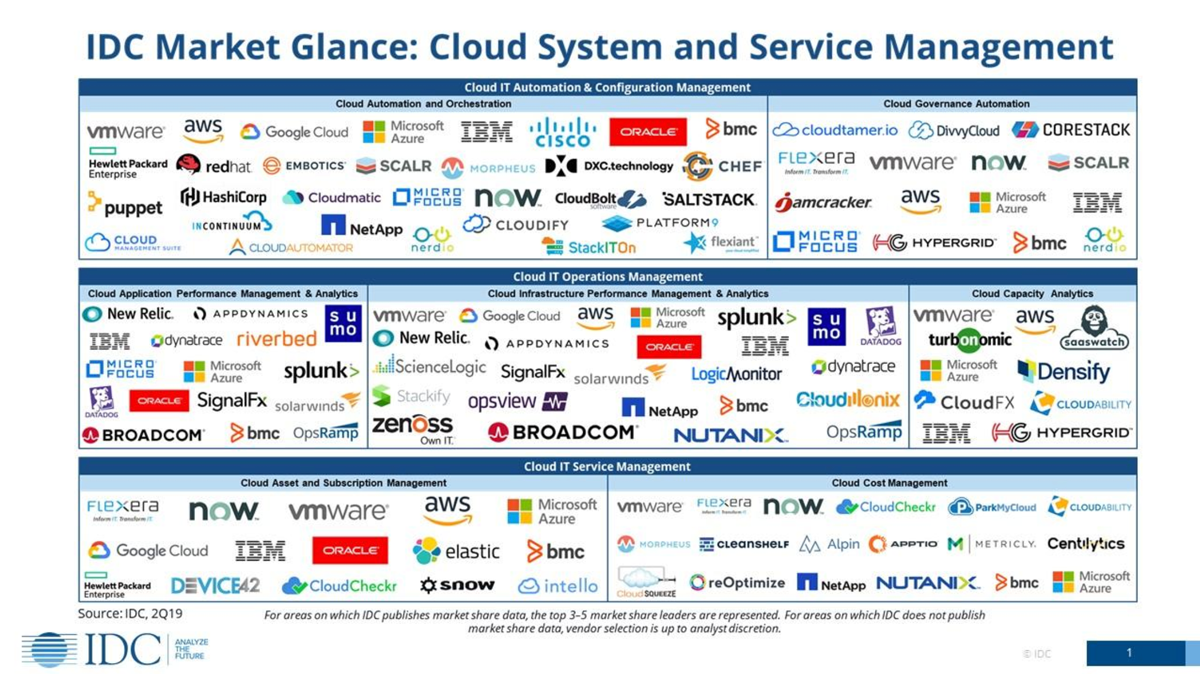 Source: IDC Market Glance: Cloud System and Service Management, 2Q19
The Market Glance for Cloud System and Service Management recognizes OpsRamp's capabilities for both cloud application performance management and analytics as well as cloud infrastructure performance management and analytics. Here's how site reliability engineers and DevOps teams can benefit from OpsRamp's cloud infrastructure monitoring solution:
Multi-Cloud Management. OpsRamp discovers, monitors, and optimizes the health and performance of 100+ services from leading cloud providers like AWS, Microsoft Azure, and Google Cloud Platform. OpsRamp can also ease cloud migration challenges, monitor platform services, cloud events, and auto scaling instances, and consolidate insights from native monitoring tools like CloudWatch, Stackdriver, and Azure Monitor.
Cloud Native Monitoring. OpsRamp helps modern observability teams track and visualize container resource usage and relevant performance metrics with robust integrations for Kubernetes clusters across on-prem and managed cloud environments.
Next Steps: