Point Tools: No Silver Bullet For IT Management
With the move to digital business, enterprises are investing in a portfolio of point tools for their hybrid IT operations. Here's how enterprises buy and deploy point tools: figure out which tools solve a specific pain, invest millions in licensing and consulting services, and then wait forever for the elusive 'single pane of glass.'
An EMA survey found that 65% of enterprises use more than ten commercial monitoring products. BigPanda's MonitoringScape shows more than eighty point tools across sixteen tool categories. It's unclear, though, if the tools arms race has actually paid any dividends for IT practitioners.
Consider the facts: the average cost of an IT outage in 2016 was $740,357, a 38% increase since 2010. IT teams can take nearly five hours to recover from an outage, leading to loss of business confidence in IT. If enterprises are still struggling with availability and performance issues in 2017, how effective is all the tooling? As we see it, the IT operations market suffers from a syndrome of 'too many shiny objects, too little insight.'
Why You Need A Hybrid IT Management Platform
At Vistara, we've taken a different approach to IT management - one built for modern IT. We want IT teams to stop assembling tools for visibility and control. Or, waste precious time figuring out which tool will help remediate a severe outage. Or, contend with IT silos that won't take ownership for end to end service delivery.
1,400 customers like Epsilon, Dolby, Wolters Kluwer, KAR Auction Services, and Toyota agree with our premise. Independent technology advisory firm 451 Research confirmed our pathbreaking approach in a recent report, 'Vistara wants to push barriers of hybrid cloud efficiency.' The Impact report praises Vistara for its ability to "bridge on- and off-premises IT estates with a single operational view" with our "end-to-end, holistic IT management platform."
Three Takeaways From The 451 Research Report on Vistara
#1 - Hybrid IT Management Without The Pain
Can IT teams manage both traditional and modern workloads in a single platform? Traditional workloads are monolithic applications hosted on physical datacenters. Modern workloads use microservices for application architectures and virtual machines, containers, and serverless for infrastructure workloads. Vistara is the bridge between the world of traditional and modern workloads. Manage your business services built on new age and legacy resources using Vistara, without writing custom code or knitting together point tools.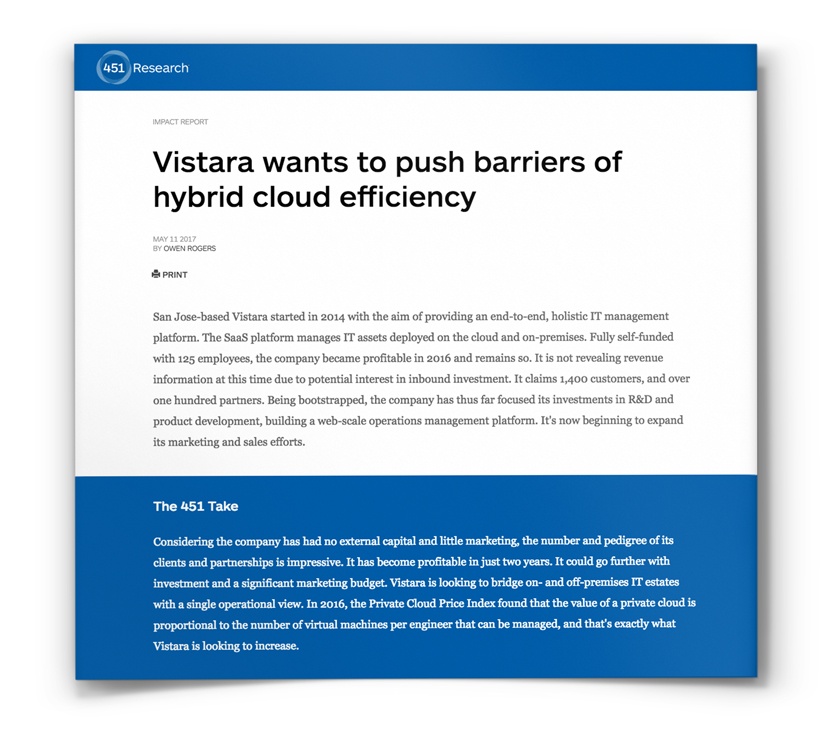 "Vistara believes its differentiation lies in its single platform, which can operationally manage both on- and off-premises deployments across new traditional workloads, and emerging workload use cases such as containers and serverless."
Vistara Wants To Push Barriers of Hybrid Cloud Efficiency,
Owen Rogers, 451 Research, May 2017
#2 - Gain Superpowers With Policy Based Automation
Companies like Google, Amazon, and Facebook have drastically changed the economics of workload management. Did you know a single Facebook engineer can manage more than 20,000 servers? In an enterprise context, one full time employee can handle only an average of 69 Windows servers!
At Vistara, we've thought long and hard on how to bring some of the web scale efficiencies to enterprise workloads. Our policy based automation handles routine IT tasks at scale, so that enterprises have some of the same superpowers as unicorns. In the report, 451 Research notes our "web-scale operations management platform" enables "managing the IT estate to be operationally efficient."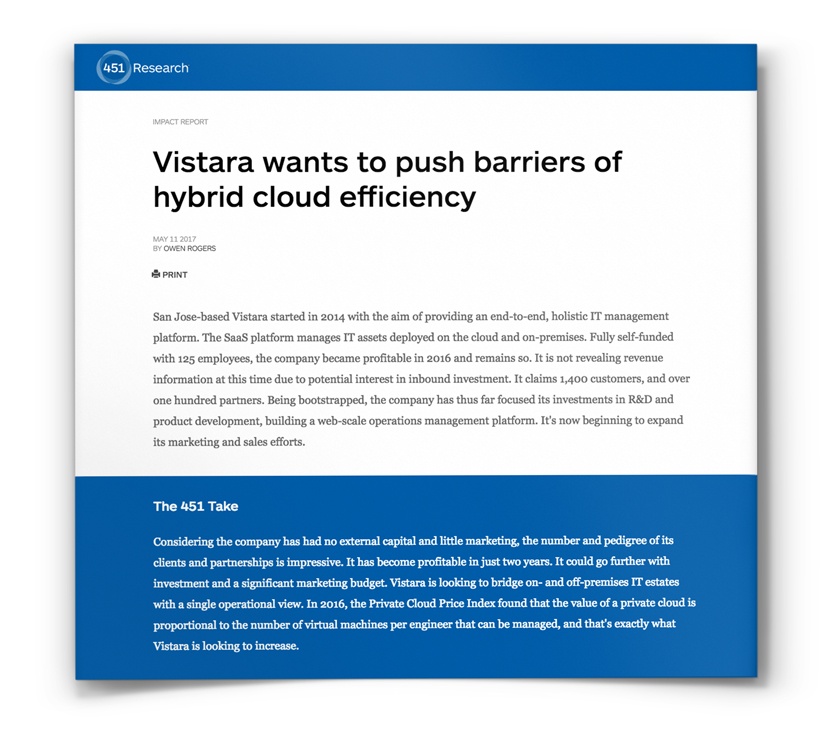 "Vistara wants to improve the number of resources on average that an engineer can manage, thereby increasing operational efficiency of a hybrid environment."
Vistara Wants To Push Barriers of Hybrid Cloud Efficiency,
Owen Rogers, 451 Research, May 2017
#3 - Tap Into A Pre-Built IT Management Ecosystem
Vistara's integrations ecosystem helps you take advantage of different IT platforms and tools. Our open API framework manages your physical, virtual, and cloud based infrastructure. Our integrations let you stream alerts, metrics, and logs from point tools into Vistara. Vistara customers can adopt diverse platforms and tools without compromising on comprehensive IT management.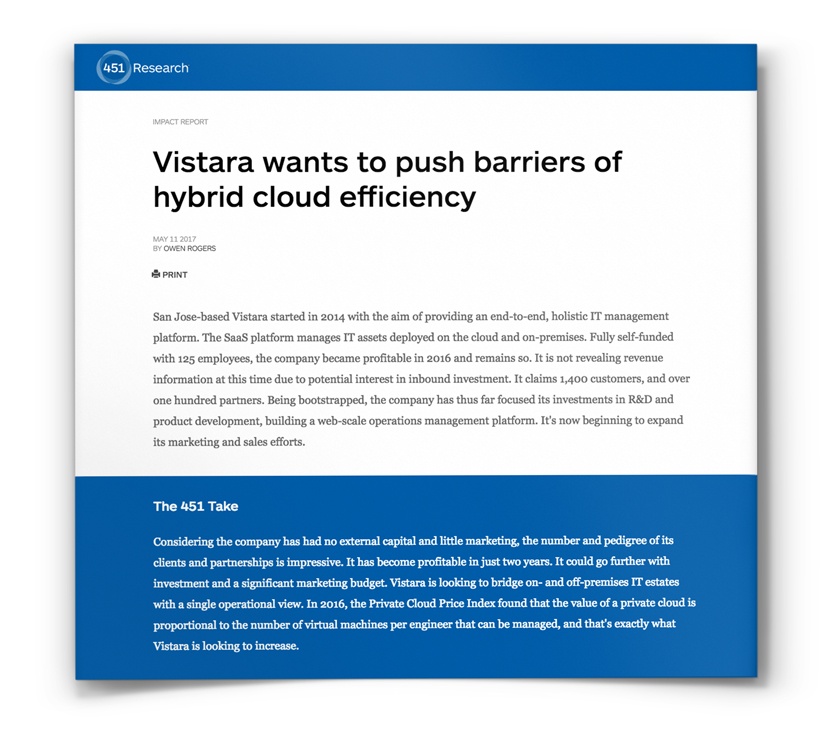 "Vistara integrates with a range of data sources from the IT estate, including Amazon Web Services, Microsoft Azure, OpenStack, Rackspace, VMware and IBM in the cloud arena."
Vistara Wants To Push Barriers of Hybrid Cloud Efficiency,
Owen Rogers, 451 Research, May 2017