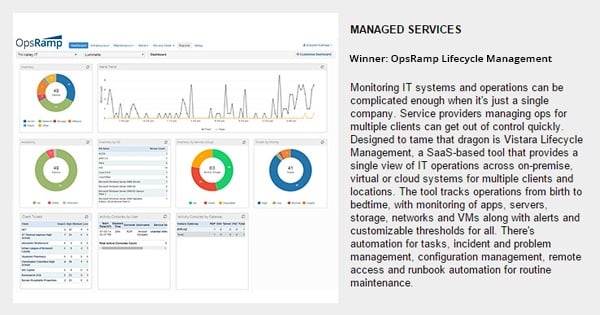 We are proud to announce that Vistara has been awarded as CRN Tech Innovator in the 2014 Managed Services category. Thank you, CRN!
The CRN Tech Innovator Award recognizes companies for outstanding innovation in products developed for the enterprise. CRN Test Center editors reviewed hundreds of products across different hardware and software categories to determine the winners.
The award highlights Vistara's ability to rationalize, consolidate and integrate IT operations into a single pane of glass. As CRN mentioned, Vistara's ability to track "operations from birth to bedtime" and offer service providers "a single view of IT operations across on-premise, virtual or cloud systems for multiple clients and locations" was a key differentiator.
Vistara enables solution providers to automate management and optimize availability, performance and capacity across customers. As the only SaaS based lifecycle management solution for IT operations, Vistara unifies IT operations management to help you better deliver exceptional services to customers.
To learn more about the 2014 CRN Tech Innovator announcement, please read our related press release.