This guest post on hybrid cloud performance management features industry analyst and thought leader, Bojan Simic, founder of Digital Enterprise Journal and Cognanta, Inc. Bojan also participated in a recent OpsRamp webinar, "The Six Steps to Becoming a Top-Performing Organization in Managing IT Operations."
Why Organizations are Grappling With Too Many Monitoring Tools
Digital Enterprise Journal's (DEJ) research shows that organizations view cloud strategies as key areas for using technology to create business value. Organizations are seeing the importance of cloud deployments in each of the following areas of digital transformation - agility (71%), innovation (65%) and cost optimization (61%).
The majority of cloud deployments are being conducted in a hybrid model where parts of IT services are being managed on-premises and in private and public cloud(s). This approach can deliver the benefits of cloud deployments while also being able to meet security and regulatory requirements by improving flexibility, striking the right balance between cost and performance, and achieving higher scalability and elasticity. However, taking this approach results in significant challenges from a performance management perspective, as 66% of the organizations in DEJ's recent study reported that their visibility into IT performance declined after deploying cloud services.
Why is IT performance declining after deploying cloud services? The majority of organizations that are starting to use cloud services are not assessing whether their existing on-prem monitoring tools are effective in managing cloud environments. Organizations typically learn this the hard way, as DEJ's research shows that 73% of monitoring solutions that were being used on-prem are not as effective in cloud environments.
As organizations find their legacy solutions are not optimal for monitoring cloud environments, they deploy additional tools to close these hybrid performance visibility gaps. As a result, IT teams are creating a performance monitoring environment that is very difficult to manage.
DEJ's study found that 59% of organizations are struggling with correlating data from different IT management domains. Additionally, 39% of organizations are using 10 or more IT monitoring tools, while 18% are using more than 20. Using separate tools for managing different aspects of IT performance makes it more difficult to place data gathered by these tools in an actionable context. Using different tools for on-premises and cloud environments is simply adding to the complexity of this challenge. 63% of organizations today are reporting that it takes more time to troubleshoot and resolve performance issues in the hybrid cloud than in traditional, on-premise environments.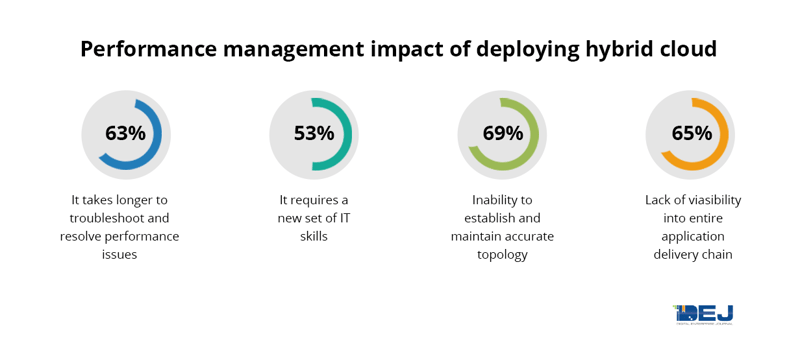 Our research also shows that organizations are increasingly moving towards multi-cloud environments which creates additional complexity for managing data from different IT providers, as they are often using specialty tools for each cloud platform they are monitoring.
Why Service-Centric AIOps and Platform Thinking are Critical for Hybrid IT Monitoring
Dealing with the complexity of managing hybrid cloud environments requires a new set of technology capabilities, IT skills, and monitoring strategies. The top-performing organizations (the leading 20% of research participants based on their success level in managing IT Operations) in DEJ's research are investing in five specific areas to tame hybrid complexity.
As a result, top performing organizations (TPOs) are 69% more likely to reduce operating costs for managing IT Operations, as compared to all others.
Correlation of performance data. Organizations using different tools for managing the performance of their hybrid environments need to deploy capabilities for correlating data from these solutions and presenting them in a unified view. Organizations can reduce the complexity of managing hybrid clouds by bringing data from different sources together across their entire tools stack and correlate the usage of cloud infrastructure resources with relevant performance metrics.
Automation. As organizations need to process more metrics in the cloud, they experience delays in performance troubleshooting due to a lack of visibility into application topology. IT teams should automate their hybrid cloud performance management processes using machine learning and data science techniques. AI-enabled root cause analysis and problem remediation, machine learning insights, and automated topology mapping are some of the key attributes of TPOs.
Monitoring performance from an end-user perspective. When managing the performance of hybrid clouds, organizations need to ensure their monitoring solutions are agnostic of where these applications and services are being hosted. To do that, organizations should be monitoring performance from the perspective of the end-user, which delivers visibility into the business impact of their cloud deployments.
Big Data analytics and elasticity capabilities. Organizations need to ensure that their hybrid cloud monitoring solutions can handle large volumes of data in real-time. DEJ's research shows that TPOs are not only more likely to mitigate issues with scalable monitoring solutions, but they are also 84% more likely to select monitoring solutions by predicting future amounts of data processing volumes.
Single platform. DEJ's IT Operations study also found that TPOs are 88% more likely to be using a single platform for managing the performance of on-prem and cloud services. This approach allows organizations to avoid some of the challenges in managing hybrid environments and make their data more actionable. 49% of organizations in DEJ's research listed cloud performance management capabilities as a key selection criteria when evaluating IT Operations solutions. Organizations are emphasizing the ability to manage hybrid environments through a single platform as a key attribute of modern IT operations.


I participated in an OpsRamp-sponsored webinar on key steps to becoming a top-performing IT organization. Listen to the recording here or check out the slides.

Next Steps: