As another autumn fast approaches, any look back at the summer would be incomplete without a review of the latest round of Gartner Hype Cycle reports. The Gartner Hype Cycles are an annual summer ritual, a series of reports published every July (and sometimes August) that track the maturity, adoption and business impact of technology innovations. This year's Hype Cycles demonstrated OpsRamp's growing awareness and brand recognition as we were listed as a sample vendor in six different Gartner Hype Cycles across three different categories.
Gartner Hype Cycles Explained
The Gartner Hype Cycles provide an annual check-in on how Gartner sees various technology innovations developing and gaining acceptance. Technology vendors use them to guide their innovation initiatives and go-to-market strategies, while tech buyers use them to make sense of new technologies and plan technology adoption.

The Hype Cycles plot new technologies along a five-phase axis that tracks how customer expectations rise and fall over time. The first phase is the Innovation Trigger, as a new technology takes shape, hype builds and expectations rise. Then comes the self-described Peak of Inflated Expectations as the hype maxes out. Since the hype has exceeded the technology's capabilities at this point, expectations and user sentiments then crash during the dreaded third phase, the Trough of Disillusionment. The technology improves and best practices develop during the next phase, the Slope of Enlightenment. Finally, the technology matures and stabilizes and adoption reaches a steady 20-30% of the market during the fifth and final phase, the Plateau of Productivity. The chart below provides more information on the characteristics of each phase.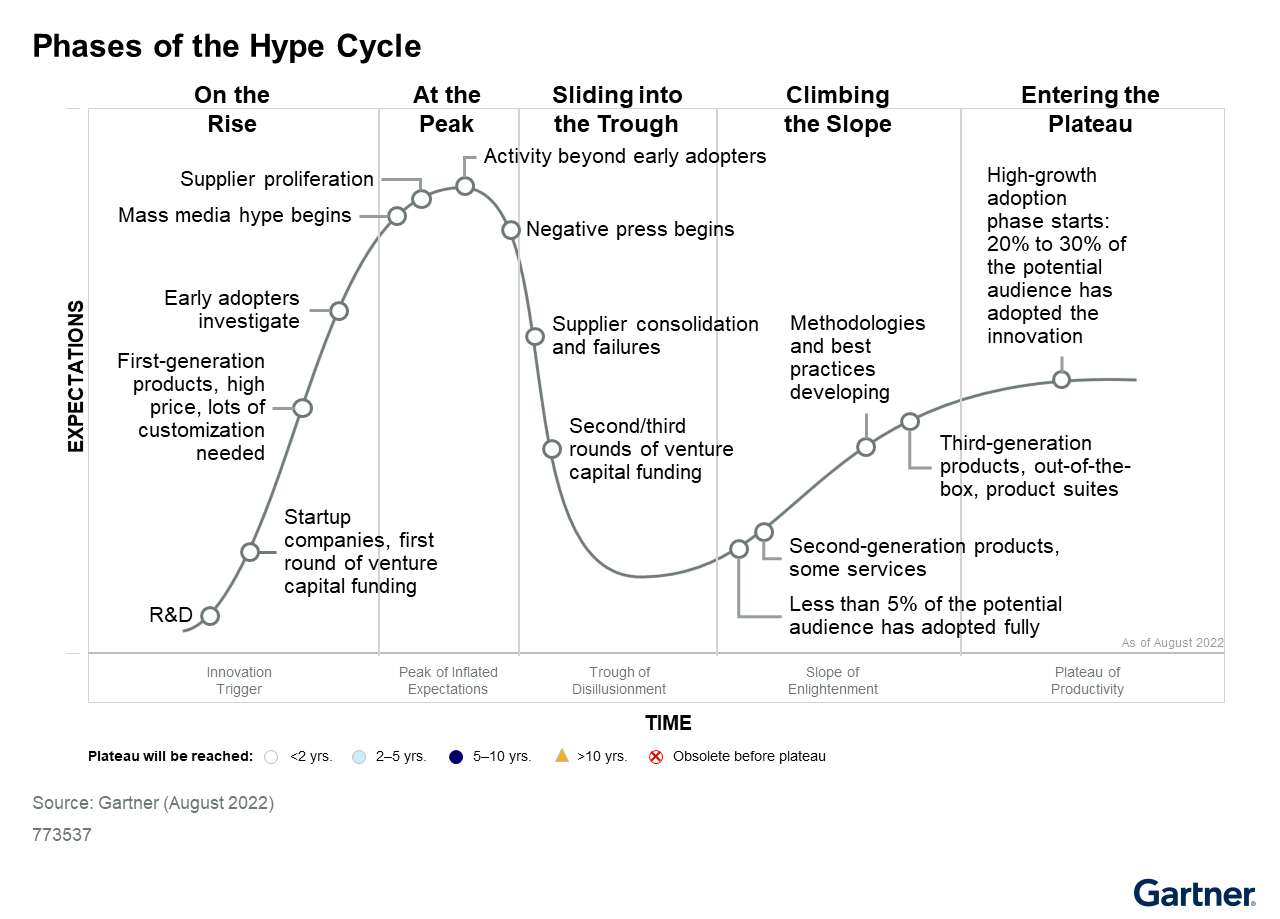 Gartner Recognizes OpsRamp in Six Hype Cycles Across Three Categories
OpsRamp was recognized in six different hype cycles this year. And Gartner tracked us across three different categories in these hype cycles, demonstrating the depth and breadth of our capabilities. We solve a lot of problems for customers, from observability of hybrid environments to alerting to AI-driven event correlation and management to automation and remediation. That got us recognized in the following six areas of innovation:
Hype Cycle for Agile and DevOps. According to Gartner, Agile and DevOps are "ubiquitous, default approaches to building and operating software." On this Hype Cycle, we were recognized as both a Site Reliability Engineering tool and a Digital Platform Conductor tool, defined by Gartner as tools that "coordinate the various infrastructure tools used to plan, implement, operate and monitor underpinning technology and services for applications and digital products." SRE tools, defined by Gartner as a "collection of systems and software engineering principles used to design and operate scalable resilient systems" are at the "adolescent" stage of development, according to Gartner and just starting down the Trough of Disillusionment while DPC tools remain at the "embryonic" phase, still working their way up the Innovation Trigger stage.
Hype Cycle for Cloud Computing. This Hype Cycle focuses on key cloud technologies in use today and innovations that are emerging to support future needs. SRE tools are one of those technologies—you can't monitor and manage your cloud instances without them—and Gartner recognized OpsRamp in this area once again.
Hype Cycle for Infrastructure Strategy. According to Gartner, "infrastructure powers digital business through hybrid IT delivery spanning data centers, cloud, edge, Internet of Things (IoT) and work from home/anywhere." Regardless of where your infrastructure resides—and Gartner sees infrastructure moving ever more to the cloud and edge—SRE tools help you manage that infrastructure and keep it up and running. Gartner recognized OpsRamp as a sample vendor in this category.
Hype Cycle for I&O Automation. Gartner describes automation as "foundational to the ability of infrastructure and operations (I&O) organizations to scale and exceed the demands of digital business." Whether you're looking to accelerate product development, respond faster to changing business conditions and regulatory requirements or just reduce costs, automation is a key technology in the IT operations arsenal. Gartner recognized OpsRamp in three different categories under automation, including DPC tools and SRE tools once again as well as Hybrid Digital Infrastructure Management (HDIM), an emerging technology used to monitor and manage application workloads across data centers, co-location and cloud providers.
Hype Cycle for ITSM. Gartner describes a "new normal of uncertainty" that's accelerating the demand to make IT service management nimble and business-aligned. DPC and SRE tools can help—Gartner notices a particular increase in interest in the former—and OpsRamp was a sample vendor in both spaces.
Hype Cycle for Monitoring, Observability and Cloud Operations. The "desire to make digital business observable" is driving investment in these technologies. Legacy monitoring and analysis tools simply can't keep up with modern IT architectures. OpsRamp was designed for exactly those architectures and Gartner recognized us as a vendor in both the DPC and SRE categories in this report.
So Where on the Hype Cycle Are We?
Site Reliability Engineering tools are the farthest along the Hype Cycle, currently starting down the Trough of Disillusionment after exiting the Peak of Inflated Expectations. Many of our customer prospects are already there and come to us after trying and failing to make AIOps work with other vendors.
The other areas Gartner is tracking us in are much more nascent. Digital Platform Conductor tools are working their way up the Innovation Trigger phase, but are still described by Gartner as "embryonic," though interest is growing. As for HDIM, that continues to trend upwards in the Innovation Trigger phase, heading into the Peak of Inflated Expectations. Early adopters should be kicking the tires on it by now. If you aren't yet looking at tools like this, may we recommend you peruse our capabilities for Hybrid Observability, AI-Driven Event and Incident Management, and Intelligent Automation. Then read what our customers are saying about us and schedule a demo.
Next Steps: