OpsRamp has enhanced its hybrid observability capabilities by adding an integrated log management solution to unify log, event and alert data within customers' monitoring and event management command center. Presenting this log data as part of a unified view of IT performance data and integrating it with remediation capabilities will allow enterprises and service providers to expedite the process of identifying and resolving potential issues before they impact their business operations.
Log Management's Increasing Role
Log management as a concept dates to the 1980s when the message logging protocol syslog was created to standardize the collection of event and text logs from servers and other network devices and store them in a central logging server. Logs data provides insights about system/application performance, activity, and trends. Analyzing that data to find anomalies that might indicate a security breach or performance issue was a relatively straightforward manual process.
As distributed computing has exploded in the last decade-plus with cloud and on-premises resources, virtualization, microservices and containers all creating their own logs, manual log file analysis was no longer possible. IT departments needed powerful log management tools to collect, process and index log file data and analyze that data to detect anomalies.
While security information and event management, or SIEM, was the primary use case for the initial log management tools and remains a popular use case today, log management has evolved to become a broader indicator of the health of IT systems, wherever they reside.
Introducing OpsRamp Log Management
OpsRamp now supports integrated log management as a part of its broader AIOps platform, bringing together logs with discovery and monitoring, event and incident management and remediation and automation frameworks. Centralizing your log management functions within your IT operations command center in this way can help you find probable root cause quicker and resolve potential incidents exponentially faster, saving your team's time and your SLAs.
Specific capabilities of OpsRamp log management include:
Centralized Log Ingestion

from all your on-prem and cloud infrastructure resources (Windows Host, Linux Host, vCenter, Storage, Network, Kubernetes, AWS, Azure, GCP, etc.) and Applications (Apache, HAProxy, Cassandra, custom applications, etc.).

Search, Filter and Save Log Views

based on select pre-built and custom attributes (ie; application type, timeframes, and severity) to more easily diagnose, share, and resolve potential issues.

Automated Log Parsing

using Regex based on prebuilt and custom attributes to help you analyze and diagnose potential issues more easily.

Time Graph & Color-Code Logs

for severity (frequency and duration) as they're ingested, and drill-down for contextual insight to identify and remediate potential issues more quickly.

Create Log Alerts

to your specifications based on application types, timeframes, and severity so you're the first to know about any potential issues.

View Usage

detail in real-time of the log data you've consumed over the last 30-days or any specified time-period.

Log Archiving

allows you to preserve historical data by archiving your log data without impacting performance.
OpsRamp log management is based on the OpenTelemetry specification. Specific benefits of this new capability include:
Increased knowledge of application performance.

Identify probable root cause of issues faster.

Improve contextual understanding so you can resolve incidents faster.

Reduce human-error when troubleshooting key workflows
Getting Started
OpsRamp offers guided onboarding for quickly setting up your log integrations (below), alert definitions, log archives and more.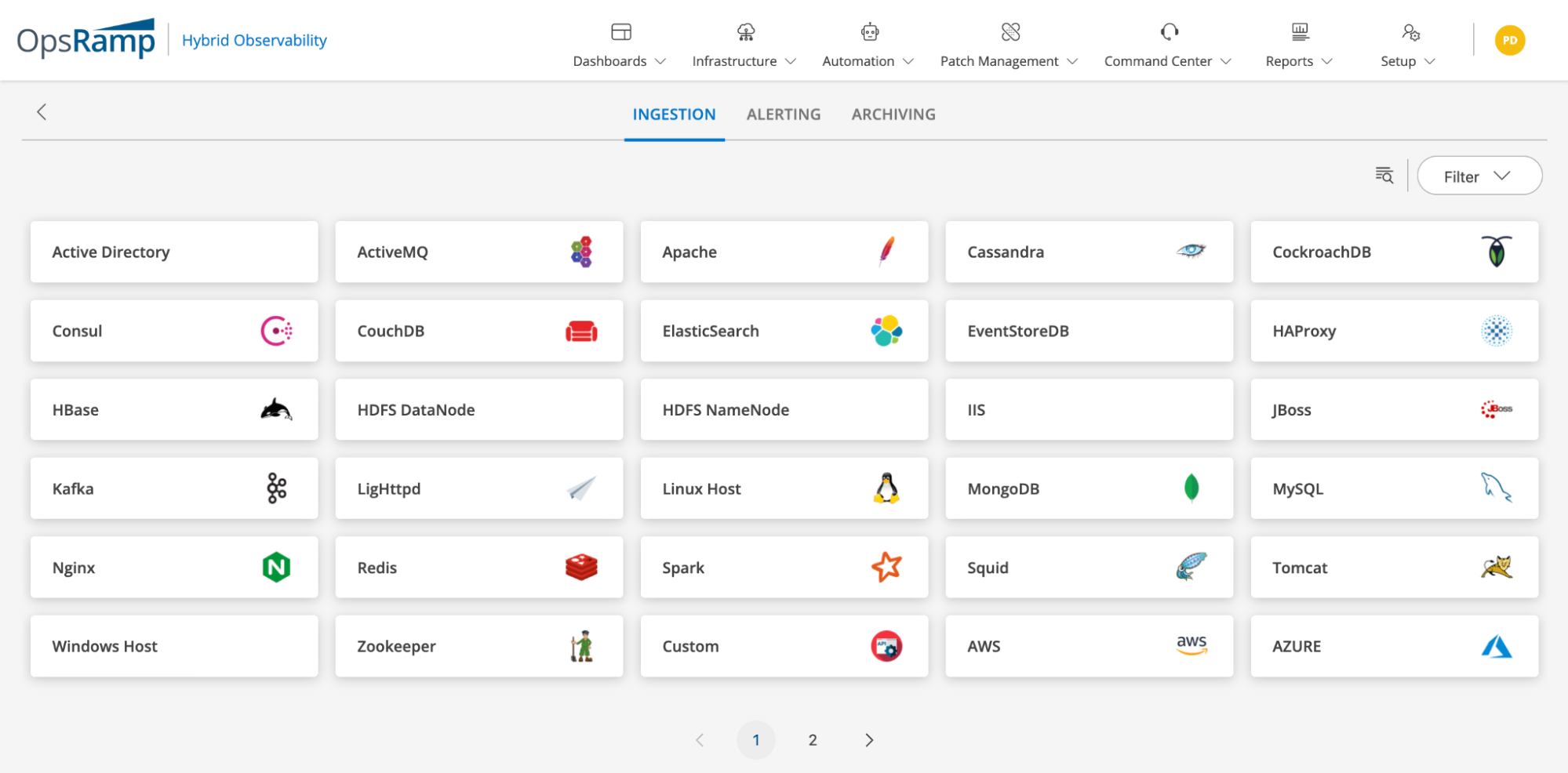 To learn more about OpsRamp log management, go to: https://www.opsramp.com/solutions/hybrid-observability/log-management/
Next Steps: