Hybrid IT is here to stay. As companies are moving to the cloud faster than ever, fueled by necessity during the pandemic, enterprise IT organizations must determine how to shift operations accordingly. Managing highly-distributed, multi-cloud IT environments is the new norm.
By 2025, 85% of infrastructure strategies will integrate on-premises, colocation, cloud and edge delivery options, compared with 20% in 2020,"
according to Gartner, in a September 2020 report,
"Your Data Center May Not Be Dead, but It's Morphing."
According to the Gartner report's authors, these changes are affecting everything from partnering and staff to enabling technologies for IT operations management (ITOM): "IT's primary function will be to enable the business to be more agile, enter new markets more quickly, deliver services closer to the customer and position specific workloads based on business, regulatory and geopolitical impacts." You can download the report here for the full analysis and recommendations on data center evolution and its implications for hybrid IT.
Hybrid IT infrastructure provides extreme flexibility for enterprise IT organizations: IT leaders can assign workloads to the environment which offers the best cost and performance for individual business services and projects. And through containerization, IT can easily move workloads around as needed when requirements and priorities change.
On the downside, hybrid and multi-cloud environments create a certain level of chaos, as we discuss in detail in this blog. This means:
More alerts and events in general;
More globally-distributed events, such as clickstreams, transactions and machine-generated events from mobile and IoT devices;
More complex events with cross-silo ramifications.
IT operations teams struggle with disconnected, technology-specific information that makes it incredibly hard to identify and resolve service issues. Manually correlating data across domains is extremely time-consuming and can lead to lost revenue if a major service goes down.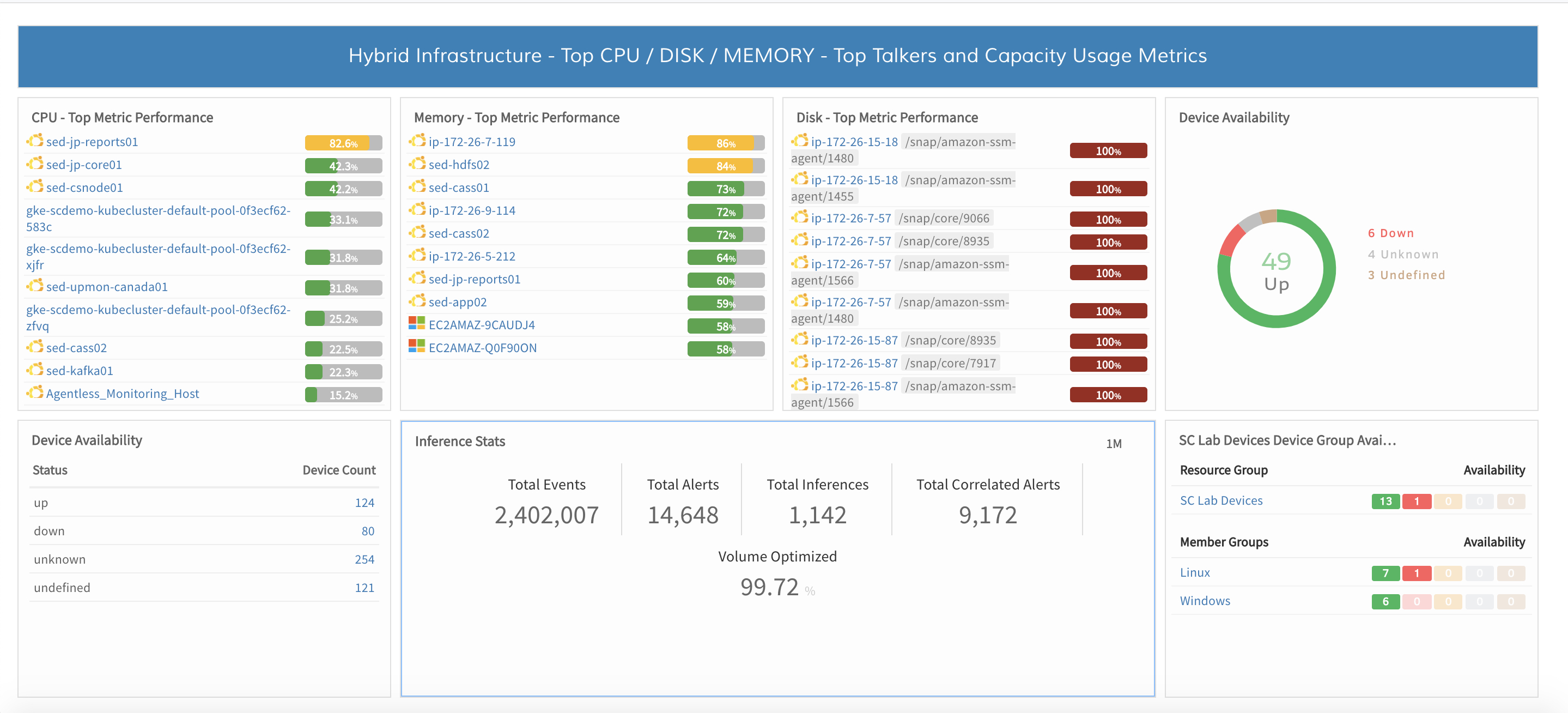 3 Steps for Hybrid IT Management
Have a workload-centric perspective on developing the optimal hybrid and cloud strategy for your organization. By understanding organizational, customer and marketplace requirements, IT operations can lead a modernization strategy that will flex with the enterprise. Establishing a Center of Excellence comprised of representatives from across the business and IT/engineering can be a way to gain buy-in on strategy and technology decisions and ensure that key stakeholders' objectives are part of the plan.
Reorganize teams and develop a skills transition plan. IT operations staff previously focused on technology silos such as network, storage, and compute, are in the process of gaining cloud and DevOps skills as cloud native infrastructure and convergence across technologies makes domain specific roles less relevant. Automation and data science experts are becoming killer hires as IT operations today requires AIOps

and process automation to be more efficient and identify issues faster. Beyond developing or hiring new roles, such as the site reliability engineer (SRE), IT leaders may need to facilitate tighter collaboration between IT operations, DevOps, security teams and more. See

this blog

for an expert view on that evolution.

Upgrade IT management tools as needed.

Integration, visibility across all environments, business alignment and multitenancy are critical capabilities of the modern IT operations system, according to Paul Glaser, Vice President and Head of Hewlett-Packard Pathfinder. In the data center report, Gartner defines the practice as "hybrid digital infrastructure management (HDIM) [which] involves the integration of tools designed to monitor distributed environments and includes devices, subnets, domains, data centers, edge deployments and/or service providers. Its focus is on asset discovery, monitoring, KPI metrics, optimization, dependency mapping, and location of both physical and logical assets."
OpsRamp's digital operations platform for hybrid IT helps organizations evolve to hybrid and multi-cloud environments faster and with less risk. To read more about our approach, visit our platform page.
Gartner, Your Data Center May Not Be Dead, but It's Morphing, David Cappuccio, Henrique Cecci, 17 September 2020
Next Steps: