OpsRamp's Operating System Patch Management module is a flexible, yet powerful capability provided to all OpsRamp platform customers or licensed separately. With our SaaS-based OS Patching solution for Windows and Linux endpoints, you can automate the entire patch management process from identification of missing OS patches to the process of patch installation.
This helps in the reduction of system failures, allowing you to increase production while reducing the costs associated with improper patch management. Instead of manually maintaining patches and upgrades on your network's numerous devices, you can now focus more of your time on key business tasks that enhance revenue with OpsRamp's improved automated patch management.
Benefits of OS Patching With OpsRamp
Here are some of the biggest advantages of using the OpsRamp OS Patching Solution:
Works as an out-of-the-box, included platform feature, nothing to add or install.
There is no need for a separate agent to perform patching activity including patch automation.
Easy to set up the entire patch management activity flow from scan to installation.
Agent-deployed devices are also configured for monitoring on the same platform which helps in tracking the device status during pre- and post-patching status checks.
Visibility at the partner and customer levels, particularly for MSPs where managing patching configurations across multiple customers is quite simple.
Easy steps for patch approval, installation, monitoring, and notification configurations.
Custom jobs can be scheduled to completely automate the execution of external patch automation scripts.
Custom setup that reduces the need for manual intervention both during and after the patching activity.
Patch dashboards that come pre-configured with easily customizable widgets, readily available reports, and analyses of device status.
Controlled patch activity-related alerts and easily customizable notifications.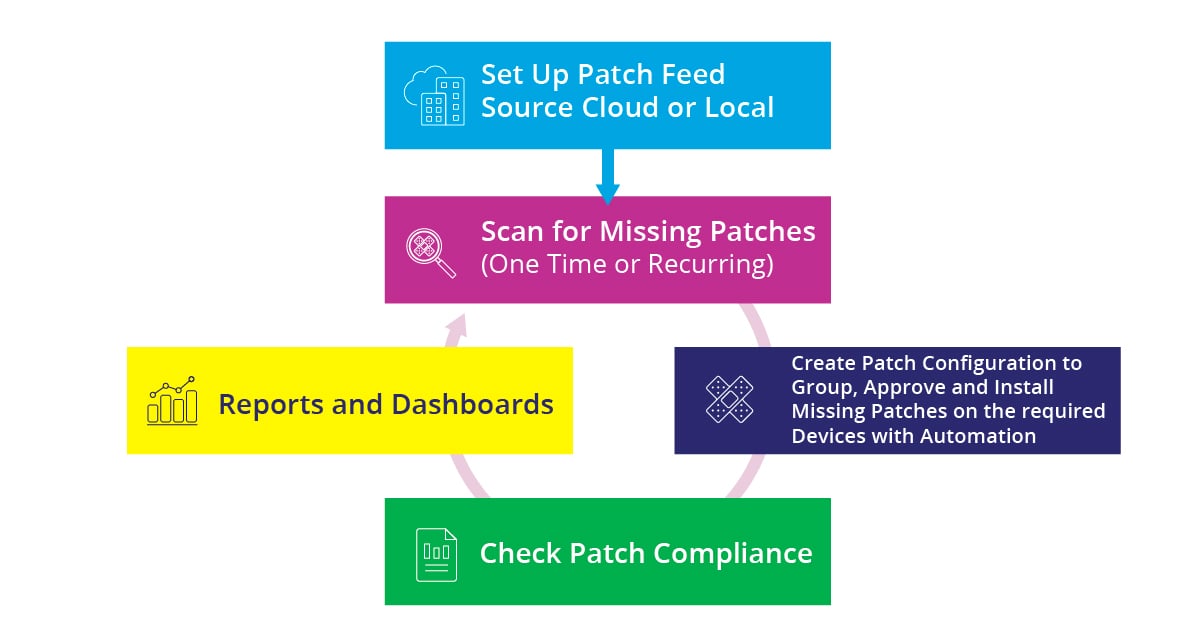 OpsRamp Patch Management 2.0
The entire Patch Management module on the OpsRamp platform now has a new, enhanced user interface plus new features in addition to the patch workflow concepts shown above. These enhancements improve the efficiency of the patch management process.
Major Enhancements
Advanced and dynamic patching capabilities with simple and strong OpsQL.
One-stop solution added for patching-related configurations.
Patch overview status page and new UI.
Enhanced scheduling and installation options


What's changing with Patch 2.0?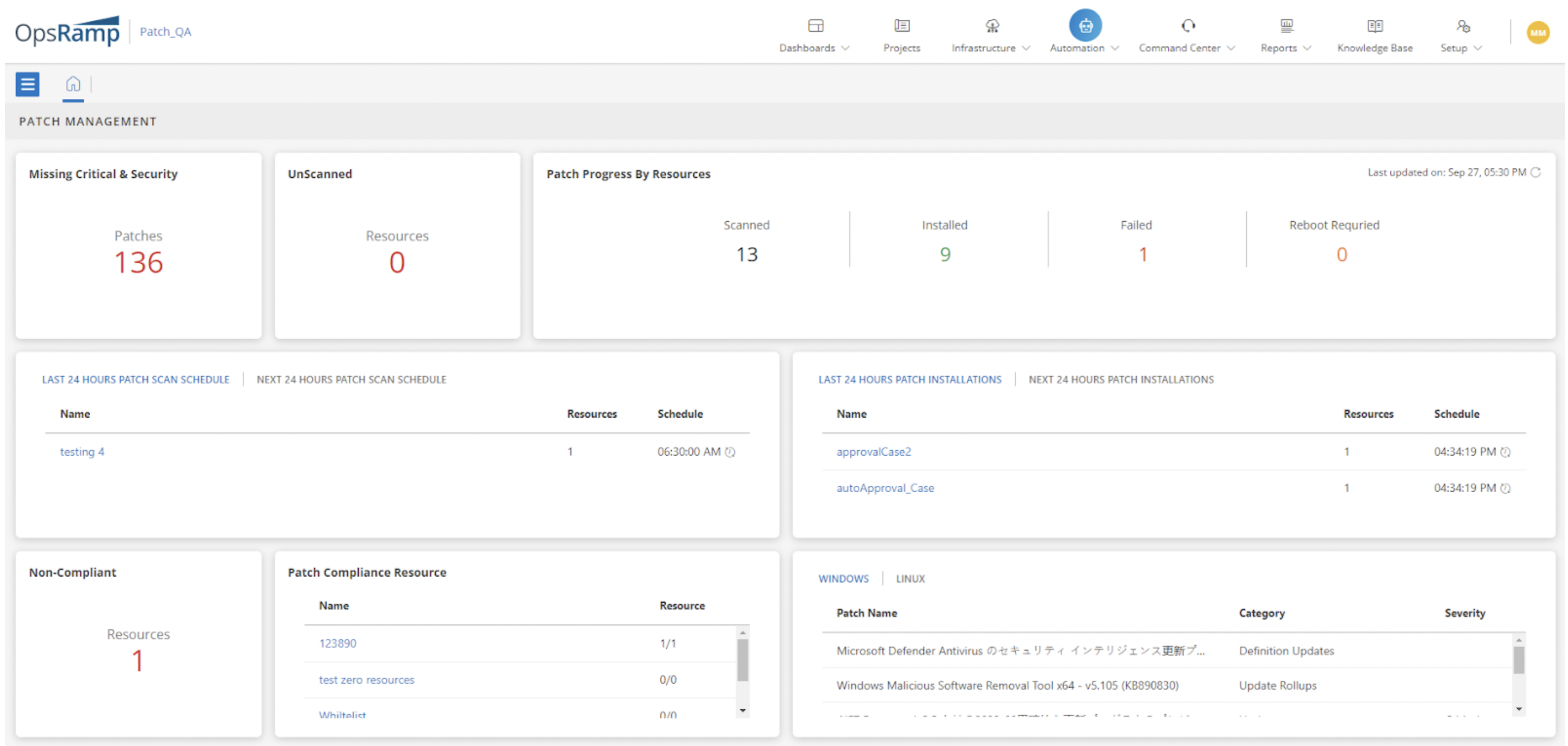 The following table demonstrates the differences between OpsRamp's existing patch management capabilities and Patch Management 2.0.
Features

Patch Management

Patch Management 2.0

Patch Overview Page
Not available
Added an Overview page which contains pre-built widgets to provide status details and easy access to patch configuration creation.
Patch Scan Schedule
You can add the devices, schedule the scan, and add users to notify from the list.

Update the device list manually/dynamically for new onboarded resources.
You can scan the schedule without opening the individual schedule.

You can view logs for each scan schedule.
You can also choose the devices using simple and dynamic OpsQL queries.

You can now add external email addresses to receive scan job notifications.
Missing Patches
Users can view the missing patches by patch or by device OS.

You can view the missing, approved, installed, and failed patches with patch rating and severity details.

You can choose the baselines to view the missing patches.

You can approve the patches manually from the missing patch screen.
You can view the missing patches and device details using an OpsQL query.

Users can access the patch scan schedule page and run a quick manual patch scan from the same page.

Capability to view the dependency patches on the same page.

Capability to Approve, Un-approve, Whitelist, Blacklist, Include, and Exclude bulk patches on the same page.

Users can manually install a bulk number of missing patches on all devices with a single click.
Patch Configuration
Users can define a single patch configuration by selecting the available attributes in the drop-down list.


Selecting devices
Defining installation schedule
Assigning patch automation process
Defining approval type
Selecting reboot options
Adding maintenance period
Adding users for notification of the installation status

Enhanced scheduling options with automation processes.

Users can view the scan schedule configuration and logs for each configuration without opening the individual configuration.

Added additional filtering options for patch installation. Users can now add an external email address to receive notifications.
Patch Compliance
Users create a compliance criteria to measure the device's state with patching.

Users can create baselines to include and exclude patches to measure the compliance for each OS.
To define the compliance criteria, added a patch search and selection option, and an additional filtering option. You can use a simple OpsQL query and dynamic compliance criteria to select the resources/devices.
Quick Links Option
Not Available
On the Patch Management 2.0 UI page, added quick links to automation, documentation, and reports so that users can access related information from the same page.
To learn more about OpsRamp Patch Management 2.0, please visit https://docs.opsramp.com/support/early-access/patch-management-2.0/