OpsRamp's ServiceNow Integration Delivers Faster Problem Isolation, Better Impact Analysis, And Quicker Reaction Times



How do IT teams make sense of alert floods, automate incident response, and reduce the human time spent per alert while using ServiceNow ITSM for service delivery? OpsRamp seamlessly works with ServiceNow to create a unified view of IT service management and IT operations management (ITOM) across the enterprise. OpsRamp's bidirectional ServiceNow integration is officially certified for incident and change management and available on the ServiceNow store. The bidirectional integration lets IT teams create, address, and remediate incidents either in OpsRamp or ServiceNow, without having to toggle between different tools.
Enterprise IT teams no longer need to lose valuable time during IT outages with OpsRamp's service-centric AIOps platform for unified discovery, intelligent monitoring, and algorithmic event correlation. OpsRamp's ServiceNow integration helps first responders quickly identify the cause of problems and solve issues rapidly and reliably with comprehensive and dynamic incident context.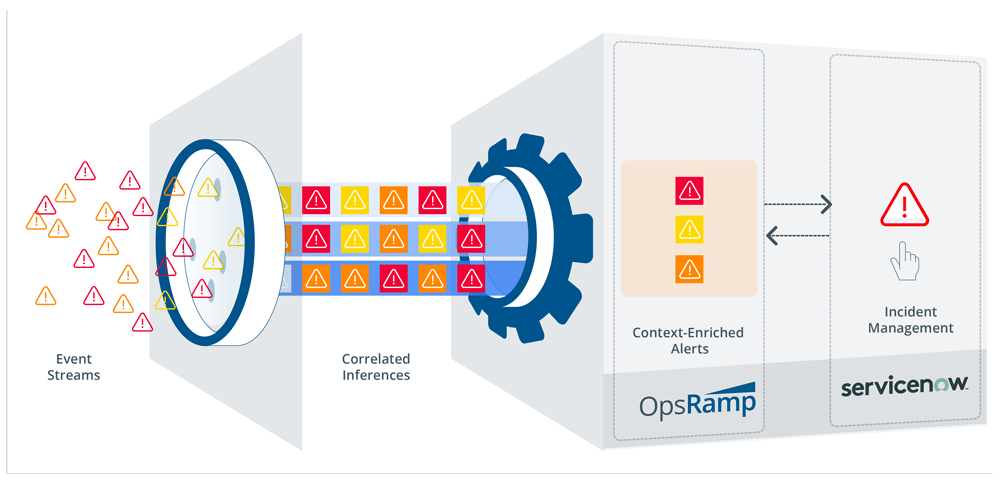 Figure 1 - Deliver proactive visibility for IT outages with seamless collaboration between OpsRamp and ServiceNow.
OpsRamp + ServiceNow: Agile Incident Management And Outcome-Driven IT Operations
OpsRamp is the system of record for creating IT incidents, with its OpsQ AIOps event management engine that can analyze, aggregate, and centralize vast feeds of IT alert data. OpsRamp's bidirectional ServiceNow integration enables the creation, refresh, and closure of incidents across their entire lifecycle as well as the ability to add, update, and store configuration item (CI) information in the ServiceNow CMDB.

Figure 2 - Acknowledge, route, and resolve incidents promptly with OpsRamp's bi-directional integration for ServiceNow.
Here are four common use cases that service delivery and IT operations teams in an enterprise can address with the ServiceNow integration:
Use Case #1: OpsRamp Alert to ServiceNow Incident. In this scenario, the enterprise uses OpsRamp to manage their hybrid IT environment while leveraging ServiceNow for handling tickets. The IT team wants automatic ticket generation in ServiceNow for any critical alert that is open for more than ten minutes, so that the right teams can work on the issue. IT teams can define alert escalation policies in OpsRamp that wait for ten minutes after the arrival of a critical alert and then populate an incident in OpsRamp. Once you create an OpsRamp incident, the ServiceNow integration immediately mirrors the OpsRamp incident in ServiceNow. ServiceNow users can access the incident with a corresponding OpsRamp incident ID along with rich event context so that they can take corrective action to repair and restore IT services.
Use Case #2: ServiceNow Incident to OpsRamp Incident. In this scenario, the enterprise uses OpsRamp to monitor, manage, and optimize their hybrid IT environment. Service delivery teams field incidents from different business teams and log these user-generated incidents in ServiceNow. While ServiceNow is the intake point for user-reported incidents, the service delivery team wants to drive faster incident analysis and triage using OpsRamp's service-centric AIOps solution. IT teams will need to first map CIs between ServiceNow and OpsRamp, so that there is a corresponding CI in OpsRamp for every ServiceNow CI. IT teams can then define business rules in ServiceNow to create an incident in OpsRamp and populate the incident id in ServiceNow for predictable and rapid incident diagnosis. Service delivery teams can then use the incident id to select the CI in OpsRamp for accelerated root cause analysis across complex, distributed IT environments.
Use Case #3: OpsRamp CI to ServiceNow CMDB. In this scenario, the enterprise uses OpsRamp as their hybrid discovery solution and ServiceNow as their ticketing platform. OpsRamp's Unified Service Discovery solution delivers scalable multi-cloud operations with unified discovery for more than a hundred Microsoft Azure, Amazon Web Services, and Google Cloud Platform services. CI synchronization between OpsRamp resource records and the ServiceNow CMDB ensures that any new IT asset discovered by OpsRamp shows up in the ServiceNow CMDB (and vice-versa). OpsRamp's discovery engine enriches the ServiceNow CMDB with live asset inventory across various enterprise business units, locations, and IT services.
Use Case #4: ServiceNow Users to OpsRamp Users. In this scenario, the IT team uses OpsRamp for hybrid IT management and ServiceNow for ticketing and wants to assign incidents created by OpsRamp to users defined in ServiceNow. When an OpsRamp incident gets converted into a ServiceNow incident, how do you associate that incident with a specific ServiceNow user? Our bidirectional integration can dynamically look up a ServiceNow user from OpsRamp and tag them in the custom field in OpsRamp when creating an incident. The assignee field gets carried over when the incident is mirrored in ServiceNow so that the right incident teams can address an IT outage or service degradation with data-driven insights.
Learn how our ServiceNow integration proactively manages the entire incident lifecycle and lets IT professionals minimizes service disruptions and IT outages:

Next Steps: