How do you know whether your DevOps strategy is working? Which metrics should you use to track performance? Here are some insights on DevOps metrics from twelve industry thought leaders.

After many months of hard work, you finally launch your shiny new DevOps initiative. You have budget approvals and alignment from all your stakeholders. You have goals in place and set the wheels in motion. What's next?
The results of DevOps can be hard to quantify. Some experts like Michael Cote have argued that DevOps ROI is impossible to track. But, to improve, you need to know where you stand today. And to do that, you'll need DevOps metrics.
What is the hallmark of a great DevOps program? How do you measure success and justify your DevOps investments? What are the right metrics to track progress and performance? Should you only use hard metrics like deployment frequency, lead time, or mean time to recovery, for demonstrating DevOps success?

The right metrics can prove the value of your DevOps investments. Our infographic lays out the business case for measuring DevOps, shares which metrics to adopt, and explains how a data-driven culture ensures that you meet your organizational goals.
1. Why Measure DevOps?
Metrics ensure that your team is not flying blind and has the right insights while making decisions. Learn how the right metrics motivate your teams, help crush goals, and drive organizational agility.

2. Which Metrics Should I Adopt?
The right metrics help you unleash innovation, productivity, and growth. Don't simply recycle metrics that have worked for other teams. Understand which metrics are commonly used in your industry and tailor them to your DevOps processes.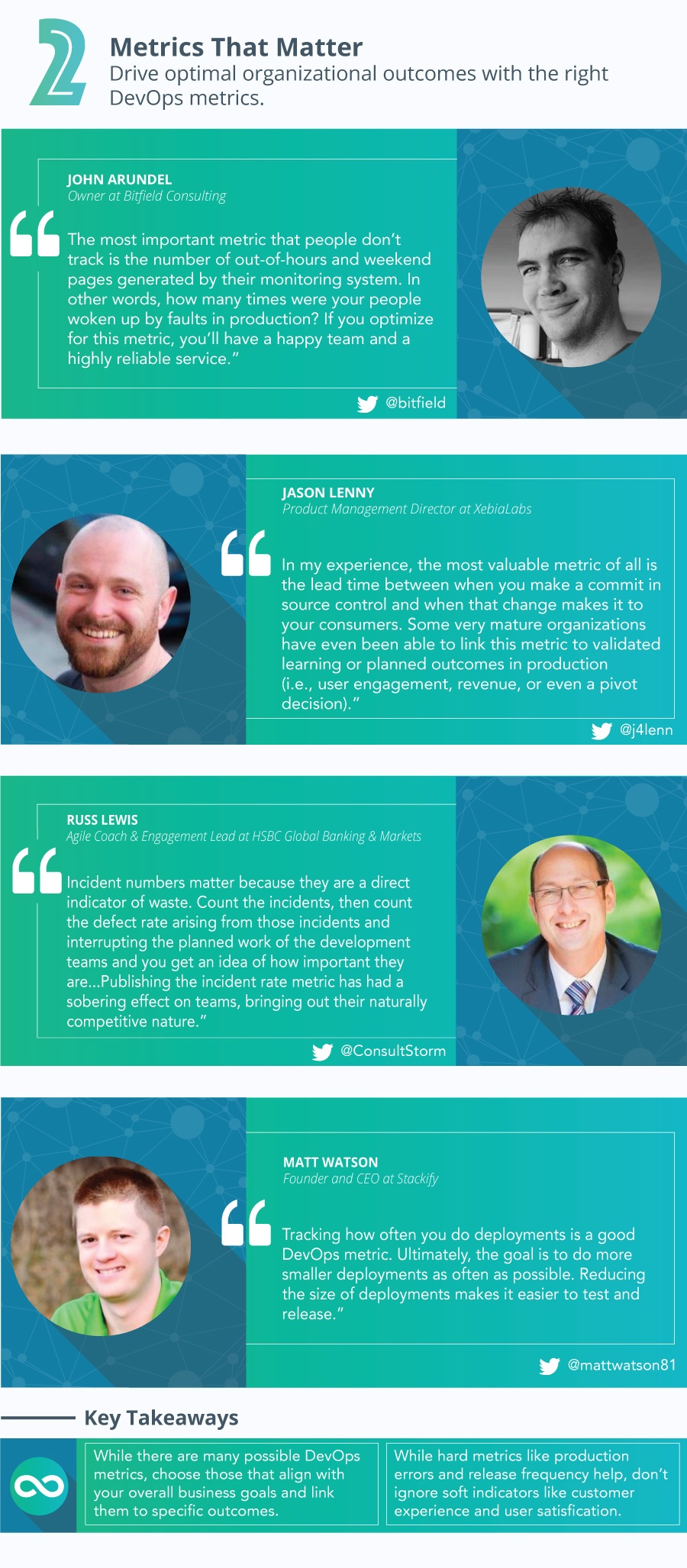 3. What Benefits Can I Realize With Metrics?
What difference do metrics make? Once you start measuring DevOps, you'll start noticing tangible benefits of using the right metrics. Check out the positive impact of having a metrics-driven approach to DevOps.

Conclusion
DevOps transformations are helping organizations deliver value and sustainability. But, measuring DevOps is a difficult and complex process. A good measurement program will provide end-to-end visibility for your DevOps projects. You'll learn how you're hitting key business goals with DevOps, track progress at every stage, and share results without any ambiguity.
Visit our live Twitter wall for real-time views from our twelve DevOps influencers. If you would like to share your views on which metrics matter, join the conversation at #DevOpsMetrics on Twitter.
More Resources
OpsRamp is the platform of choice for DevOps teams to view, manage and automate many of the behind-the-scenes management tasks that define operational efficiency. For more on our platform, visit The OpsRamp Platform page.
To learn more about how we're delivering monitoring and event correlation on a modern, SaaS platform, check out Unified Service Intelligence.
And Before You Go
Here are some great DevOps resources to help you determine what are the right metrics for you and your organization: