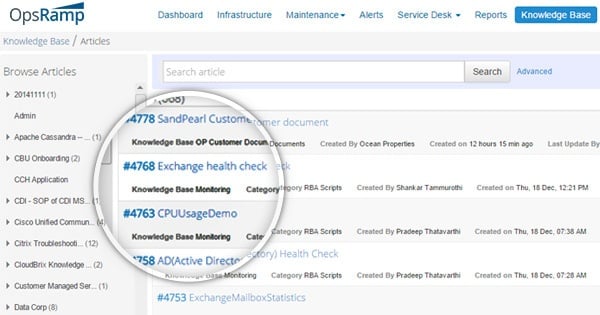 We have released OpsRamp 3.7.0, with exciting new features including:
Knowledge Base for fully integrated knowledge management capability
Remote Multi-Console Sessions that simplify the management of multiple identical devices
Alert Management Enhancements including new reports, dashboard and alert detail screen updates
Knowledge Base
We are excited to announce that OpsRamp now supports knowledge management via the new Knowledge Base feature. IT organizations can now create, share and maintain Knowledge Articles that represent commonly used information such as troubleshooting tips and standard operating procedures, fully integrated with the OpsRamp IT operations management platform.
Knowledge Base organizes how-to articles across categories and associates this information with device groups and monitoring templates to help IT departments and business users quickly find information about their IT operations that is both current and accurate. IT teams can also create and share user generated content that addresses common IT problems and reduces the volume of support calls through self-service knowledge articles.
Remote Multi-Console Sessions
OpsRamp now allows users to select multiple devices and launch remote consoles into these devices in a single action. Users can interact with multiple consoles from a single UI to broadcast the same command and run SCP File Transfer across multiple consoles.
As more IT organizations embrace DevOps principles, the ability to manage, for example, a cluster of identical cloud instances, will further simplify the IT operations required to delivery agile development and continuous integration.
Alert Management Enhancements
We've updated a number of OpsRamp's alert management features
New Alerts Reports are available that outputs alerts based on defined parameters like client, device type and site, and can be scheduled to deliver on a recurring basis
Enhanced Alert Dashboard with user-defined views to see current or historical alerts and search capability
Revamped Alert Details Pages allow users to see summary information for an alert, related alerts and related tickets