What capabilities does a unified command center need to deliver for end to end IT operations lifecycle management in the enterprise?
The right architecture ensures that the right people, tools and infrastructure are part of this framework. The right platform gives you the situational awareness to seamlessly aggregate and correlate availability and performance events, make sense of them, and coordinate response for timely decisions and actions, and in context of today's modern IT environment.
Let's dive into the details.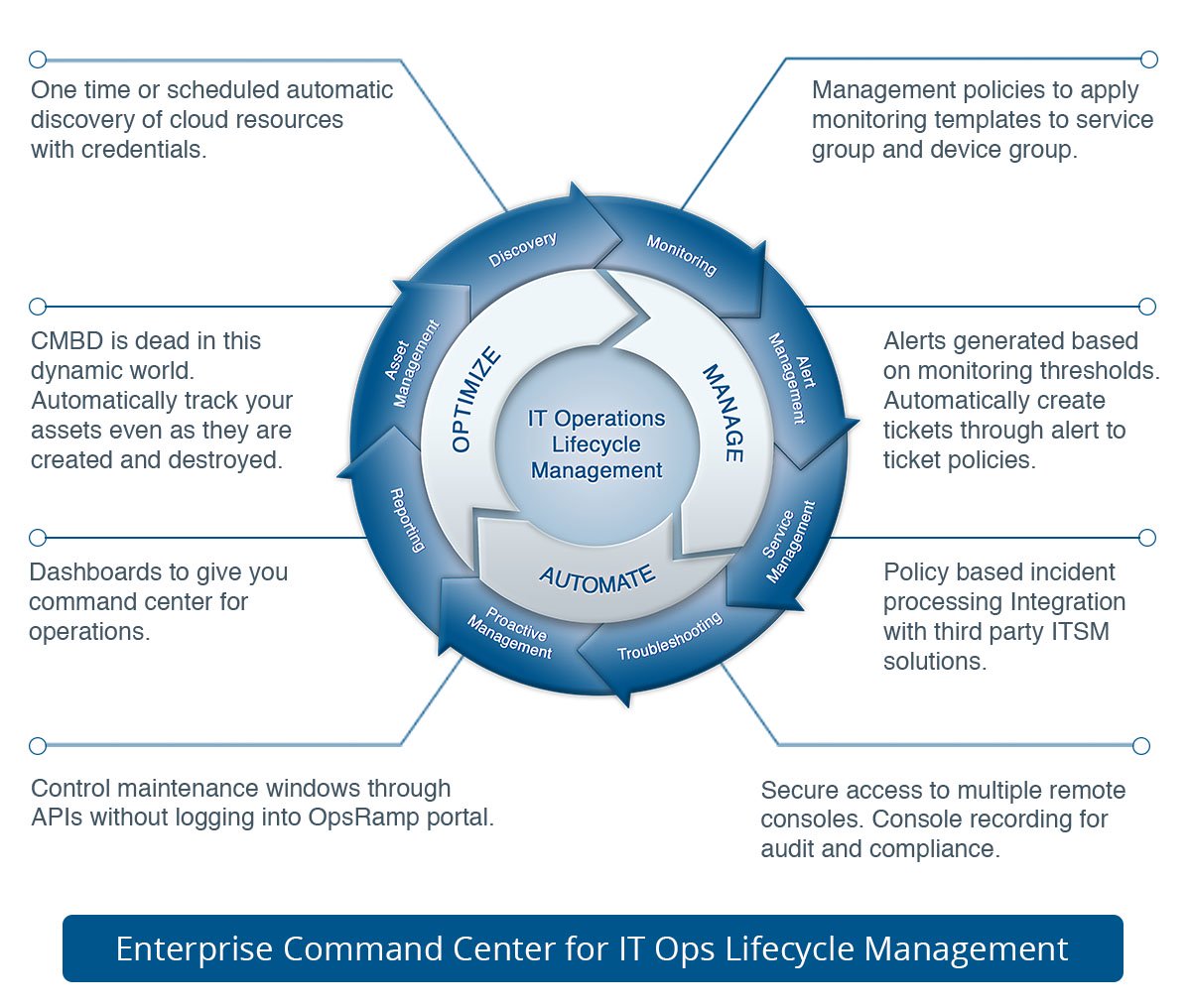 Discovery has changed dramatically in modern IT environments. Light weight configuration management databases (CMDB) dynamically discover applications and infrastructure with management credentials. Traditional discovery and warranty driven asset management still play a role but modern IT demands policy based discovery of IT resources for automatic management, particularly in dynamic environments with fast-changing resources.
Monitoring needs to be policy driven with a service orientation. Like with discovery, applying templates and recognizing relationships between resources that make up applications and services are automated. Visibility and dashboards at the service level is paramount.
Say you are using a container framework to deliver microservices. The command center will programmatically discover microservices, map the microservices that compose an application, and apply monitoring and reporting at each level.

Alert Management in a command center consolidates events and alerts from application and infrastructure elements into a single framework. Ticket creation can be automated with the right policies around event management, but recognizing that not all alerts and events need to become incidents. Leverage automation of standard operating procedures to self-remediate alerts without involving IT or business teams.

Service Management in a command center delivers policy based incident processing using service level mechanism notifications and incident escalations to relevant teams. Given the legacy state of enterprise service management, your command center should integrate with third party IT service management (ITSM) solutions, be it mature ITIL driven platforms or new age ITSM tools. API and access frameworks will be important for a multi vendor and service provider approach.

Troubleshooting is increasingly conducted remotely and by a wider set of experts. IT must be cognizant of security and compliance as employees and service providers access enterprise resources. Make sure your command center can control access to external providers so that they can operate in a specific time window and perform maintenance activities. Remote troubleshooting capabilities and automatic console session recordings at the protocol level can provide an audit trail for compliance.

Proactive Management provides the solid foundation that reduces events and reactive work for IT. A command center enables automation and scheduling of maintenance activities, sparing your team from logging into your IT operations systems for routine maintenance tasks.

Reporting is critical for delivering actionable insights to your business. Comprehensive and customizable dashboards allow you to understand and analyze metrics on performance, availability, and capacity to identify the trends to optimize your resources and investments.

Asset Management in a modern command center must let you automatically track assets even as they are created and destroyed. You can manage the entire asset lifecycle for physical and virtual elements including warranty tracking, support contracts, and end-of-life attributes.