Vistara just announced the release of its latest version, Vistara 3.2, which delivers advanced features for simplifying IT operations management. New features include the ability to create custom monitors using the scripting language of your choice, improved support for monitoring small remote offices, and enhanced out-of-the-box reporting.
Custom Monitors Using Popular Scripting Languages
Vistara customers have always been able to use existing Vistara monitors built on SNMP or WMI and tailor monitoring thresholds for existing metrics. With this release, customers can now write scripts to create entirely new monitors to track metrics of their choosing. Customers are free to use popular scripting languages like Python, Windows PowerShell, and Perl to create their own monitors for any script-accessible values. IT infrastructure managers can monitor new elements using scripts and develop specialized monitors to address advanced monitoring needs.
Using custom monitors, IT administrators can monitor custom enterprise applications, websites and SaaS applications, cloud applications that expose performance metrics via statsD, and any element for which performance and availability statistics can be collected via scripts. Vistara has always been able to monitor applications, including cloud apps, via monitors built on WMI, SNMP, and JMX. Many next-generation cloud apps now deliver performance metrics using Statsd. Vistara's custom monitors can now also understand metrics in Statsd format, so it's easier than ever to track the performance of your cloud applications.
Finally, Vistara allows you to create specialized monitors for monitoring of application-specific heartbeat signals, status of batch applications, combinations of running OS processes, and hardware health and availability.
Improved Monitoring of Remote Offices with Limited Infrastructure
Vistara provides two ways for customers to monitor and manage their remote office elements:
A powerful Vistara Gateway, which runs within a dedicated virtual machine, can be deployed in the remote office. The Vistara Gateway enables clientless monitoring and management of all the elements in its network environment, among other benefits.
Optionally, a lightweight Vistara Agent can be deployed on one or more Windows or Linux machines. The Vistara Agent provides capabilities such as patch management, application updates, runbook automations, and antivirus update management for the machine on which it's installed.
Some customers have small remote offices with no machine powerful enough to run a VM, so they are unable to deploy a Vistara Gateway in that office. Vistara enables such customers to use lightweight Vistara Agents within each remote office for monitoring. In Vistara 3.2, a Vistara Agent in each remote office can be configured to send the office's monitoring data directly to Vistara so that monitoring will continue even if an office-to-office WAN link goes down, increasing resiliency in the face of possible WAN outages.
Enhanced Reporting
Vistara includes many out-of-the-box reports, including the Customer Executive report, which is a monthly report summarizing the overall state of the IT infrastructure for stakeholders such as executive management. The Customer Executive report now includes the following additional metrics to provide a consolidated snapshot of your IT operations:
Device count trend for last three months
Previous month downtime and availability
Device availability trend
Top ten devices in downtime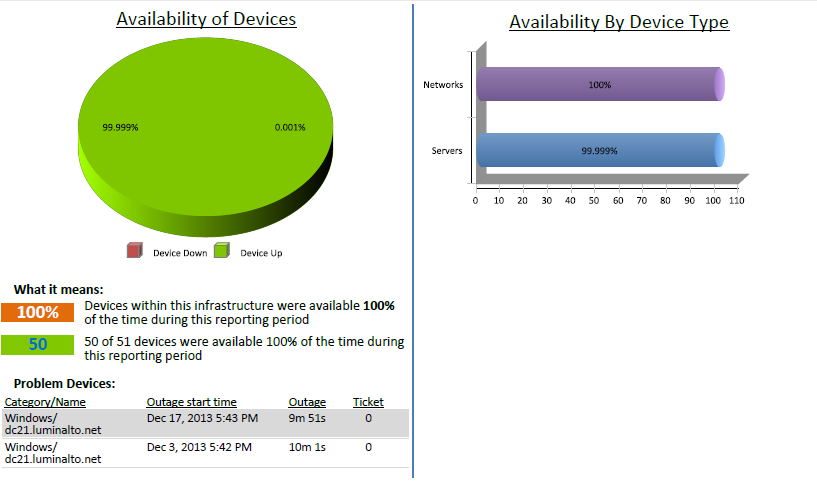 To learn more about how Vistara can help your organization realize the full benefit of unified IT operations management, request a live demo today!
Image Credit: Bruno Cordioli