As the Northern Hemisphere faces what could be a long, sepulchral winter, there's no clear vision into the future. Here are some recent stats:
The U.S. economy will now grow just 3.5% in the first quarter of 2021, half of the 7% expansion previously expected, according to Goldman Sachs. Yet the bank sees the economy returning to pre-pandemic levels of output in the second quarter of next year.
However, Moody's forecasts that the country will not fully recover the 22 million jobs lost to the pandemic until 2024.

The European Commission forecast

projects that the EU economy will contract by 7.4% in 2020 before recovering with growth of 4.1% in 2021.
The UK's Institute for Fiscal Studies predicts that 2020 Q4 GDP will remain 6.2% below 2019 Q4 levels.
Alright then. What is certain is that the private and public sector needs technology leaders who can direct investments strategically and cost-effectively, more than ever. OpsRamp released a survey today, The Change Agents: How IT Operations Teams Are Driving Enterprise Transformation and Value Creation During Uncertain Times, conducted in October, of 230 U.S. and U.K. IT Operations leaders. We asked about their spending plans, tech priorities and hiring plans. (We conducted a similar survey in April, with results here).
Our October survey shows 60% have either significantly or moderately increased their IT budgets in the last six months and a majority also continue to maintain (or accelerate) digital transformation (DX) plans. On balance, technology organizations have not had to incur massive layoffs – in fact most are growing staff and hiring both senior leaders as well as various operational roles.

Despite the hardships of this past year, there have been silver linings. Three positive impacts on IT operations include:
A shift in priorities to better remote work capabilities (70%),
Stronger security posture (54%),
Closer collaboration with the business (49%).
For senior IT leaders with a clear strategic vision and an understanding of how to drive flawless digital experiences, job opportunities abound, according to Martha Heller in a recent interview. Let's dig into a few of the results of our survey. You can get the full report here.
What IT Leaders are Worried About
IT directors and CIOs at enterprise organizations have mandates to bring their organizations into next year prepared to take advantage of an economic recovery. The three biggest challenges they cite in the OpsRamp 2020 "The Change Agents" survey include:
Business-IT alignment (35% in October v. 41% in April);

Available technology solutions (22% in October v. 18% in April);

Economic uncertainty (17% in October versus 25% in April).
Technology Priorities: Secure, Remote, and Agile
In the second and third quarters of 2020, IT leaders increased funding for information security and compliance (59% in October versus 62% in April), remote work and collaboration (55% in October versus 42% in April), and public and multi-cloud infrastructure (50% in October versus 45% in April).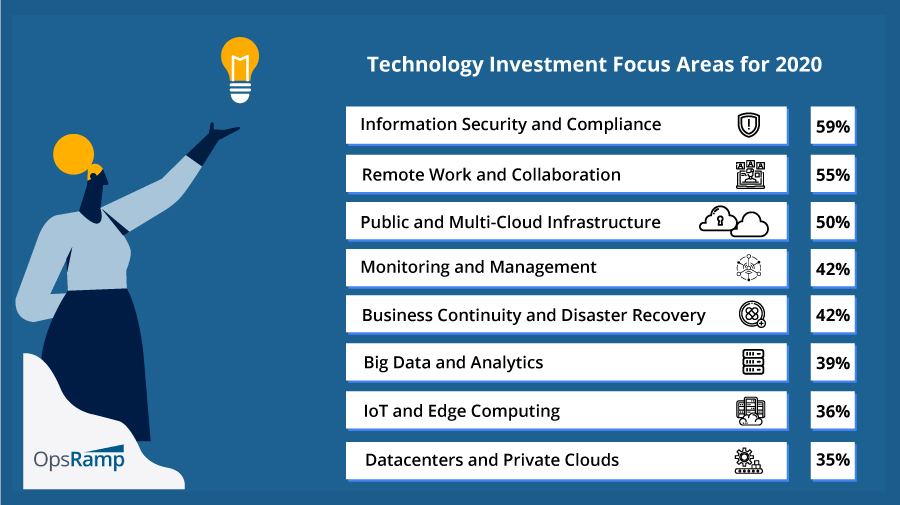 IT organizations also invested in performance monitoring tools such as artificial intelligence for IT operations (AIOPs) (57%) and digital experience monitoring (50%), among others, to be proactive and accurate when responding to brewing issues. Respondents also shared an overwhelming reliance upon external service providers in 2021. (Read the report for more detail).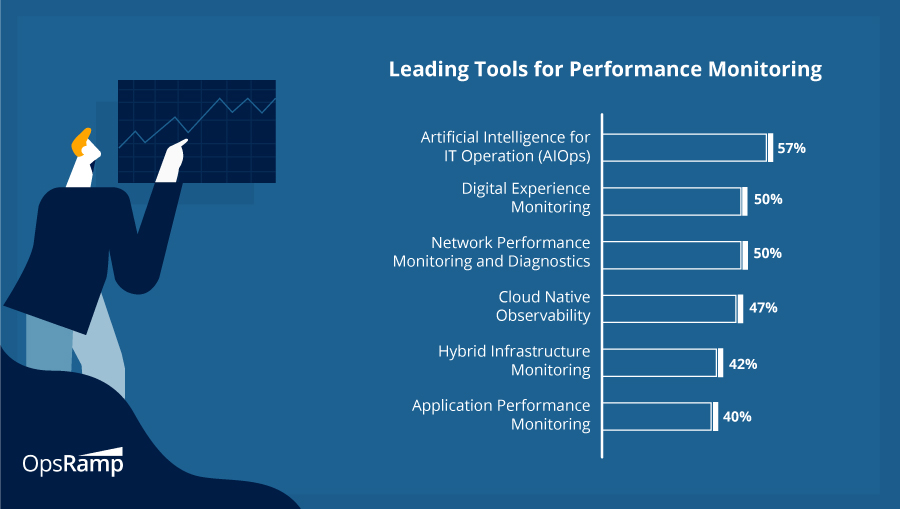 Eliminate waste
Technology must be easier to consume, deliver and manage. Tight budgets are driving organizations to get more analytical about tools and systems they will support and more creative about delivery. In that light, IT leaders are rolling out self-service tools (54%) and rationalizing technology vendors (51%), among other priorities.
Tight budgets are driving organizations to get more analytical about tools and systems they will support and more creative about delivery".

Supporting new models of work
We all discovered what we could accomplish when working from home this year-- and it's been eye-opening. Our survey showed that IT organizations have upheld employee productivity by increasing virtual team meetings and upgrading network technology infrastructure but also by understanding the value of work-life balance: 50% increased flexibility and/or vacation time this year.
Tough times are continuing for our global economy, but IT leaders who can be both thoughtful in decision-making and take calculated risks to manage uncertainty and deliver new customer value will gain a head start in 2021.
Download the full report, "The Change Agents: How IT Operations Teams Are Driving Enterprise Transformation and Value Creation during Uncertain Times."
Next Steps: