Top Weekly Reads in IT I&O
The world of IT operations management, DevOps, AIOps, and cloud is always changing. That's why there's The OpsRamp Monitor: the occasional review of interesting developments and emerging trends in digital operations.
In this article:
Why cloud, backups and data center monitoring are top priorities now;
Several ways to prioritize digital transformation initiatives in this climate;
The problem with COBOL and unemployment claims.
Most IT professionals are working from home, enduring all the new challenges for productivity under a heavier workload. Some IT pros are working in companies where revenue forecasts are grim. But it's time to put the gloom and doom aside for a moment. As my mother told me when our first-born was keeping us up all night: everything is temporary. While we're in this unnerving phase of life and work, let's take a look today at the positives and that begins with IT budgets.
Companies need IT more than ever, a premise backed up by research from PwC, showing CFO priorities during the pandemic.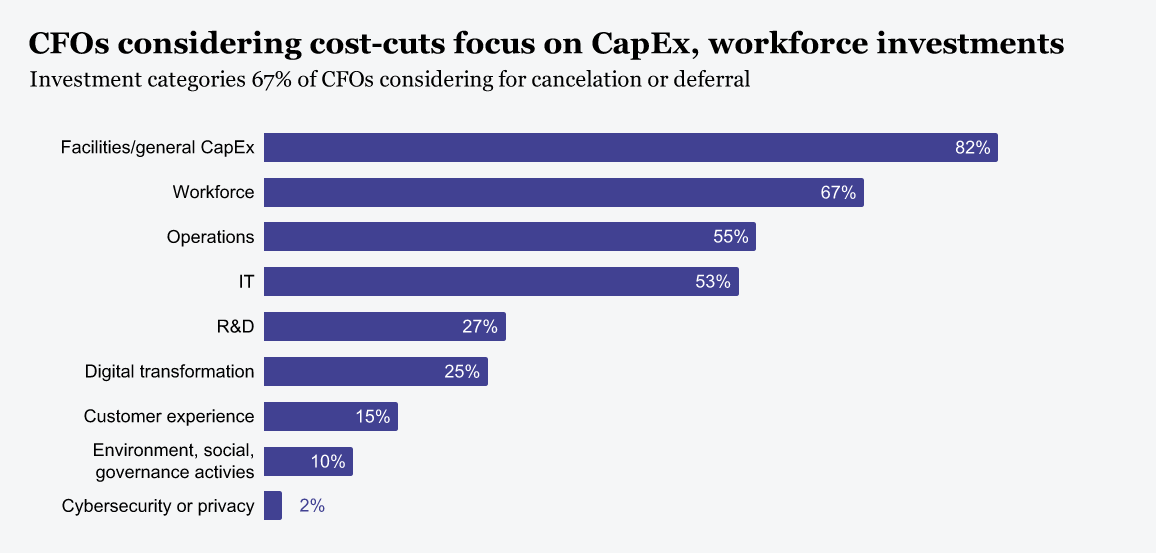 Data from PwC CFO Pulse Survey, April 13, 2020 / Naomi Eide for CIO Dive
As reported in CIO Dive, CFOs' top priorities for spending reductions are in CapEx, workforce and operations, with IT fourth on the list and digital transformation coming in a distant sixth. Even though the big analyst firms like Gartner and IDC are revising their earlier IT spending forecasts for the year, IT professionals should not fear for their jobs. On the contrary, IT is what's keeping the wheels of business moving right now. Even better, the Internet did not break, which furthers the case for IT modernization with cloud infrastructure.
How IT folks can help: Be the calm face in the storm of uncertainty for your business. Invest in the cloud, ramp up backup capabilities and monitor your data center with renewed vigor, reports Ryan Smith in DevOps.com. "Now is the time to monitor your IT operations even more closely than usual to spot extremes and help with scalability and capacity planning," he writes. "Closely monitoring your IT and security resources to look for spikes and surges can guard against oversaturation and could help justify offloading workloads to cloud data centers." Smith also notes the heightened risk for security right now, since bad actors capitalize on disaster scenarios to make their move. "Automated monitoring can greatly assist in preventing these types of attacks, but only if proper baselines and profiles are established."
Supporting digital transformation, even now: Even in good times the phrase "digital transformation" is a loaded one but essentially, it's about how IT can support business objectives for customer experience and satisfaction with new digital products and services. In other words: apply technology to drive revenues, brand awareness and market share. In this Forbes article, customer experience author and speaker Blake Morgan shares several tips for advancing digital business initiatives. At a high level, business and IT people should think about how to change the way products and services are created and delivered.
How restaurants have had to, overnight, create new menus, adopt new safety tactics and facilitate curbside pickup business models in the last month is a great example of new digital business services that meet changing customer needs. It's smart to always be thinking ahead of the curve as to how your business can pivot plans quickly. Big Data analytics strategies should be at the heart of every business unit, supported by a flexible, cloud-based IT infrastructure. Morgan also talks about the need for inclusive decision-making, a streamlined data integration strategy, the importance of internal customer experience and digitally optimizing supply chains.
How Covid-19 is furthering digital infrastructure innovation: The World Economic Forum talks about how Covid-19 has exposed the need to strengthen our digital infrastructure, citing that AI and IoT could play a major role in how we deal with this virus: "The primary challenge now, at the time of this crisis, is to integrate and streamline digital infrastructure at various stages of the public health response, particularly in the context of epidemic forecasting and decision-making." The cloud, big data and AI applications will be powerful tools in the future (and to some extent, now) to help citizens understand the severity of pandemic disease and respond appropriately.
In closing, will the pandemic kill COBOL once and for all? The Verge reports on how state unemployment systems have been overwhelmed due to record unemployment numbers. Many laid-off workers are experiencing issues submitting their claims. The reason why: COBOL, the mainframe-era programming language, which has been around for more than 60 years and still runs a surprising number of banking and government systems. This is proving to be an issue right now…leading one to surmise that maybe COBOL has finally expired its usefulness to modern society.
A survey by The Verge found that at least 12 states still use COBOL in their unemployment systems. "As the pandemic has millions out of work, these systems have become a barrier for the recently unemployed," writes Makena Kelly. Some feel that COBOL is unfairly blamed. "Whenever there was a problem with the IT, COBOL is the scapegoat," says Bill Hinshaw of COBOL Cowboys, an organization that provides experts in legacy systems, as reported in the article. "IT systems always get the short-end of the stick when it comes to funding."
Regardless, it's undeniable that a lack of investment in modernization is hitting some government agencies hard at the worst possible time.
Next Steps: