The OpsRamp Monitor is back, capturing the latest buzz around what's trending in the world of ITOps and related technology. It's been a busy month!
IT Spend Continues to Grow in 2021
Industry research firm Gartner forecasts worldwide IT spend to grow by 9% in 2021. Gartner says IT leaders will continue to focus on investing in technology that delivers business value even as revenue declines at many companies. Investment in infrastructure-as-a-service seems to be the primary driver behind the spike as there is an increasing need to support mission-critical workloads. We had identified this trend in one of our surveys late last year, and predicted it to grow.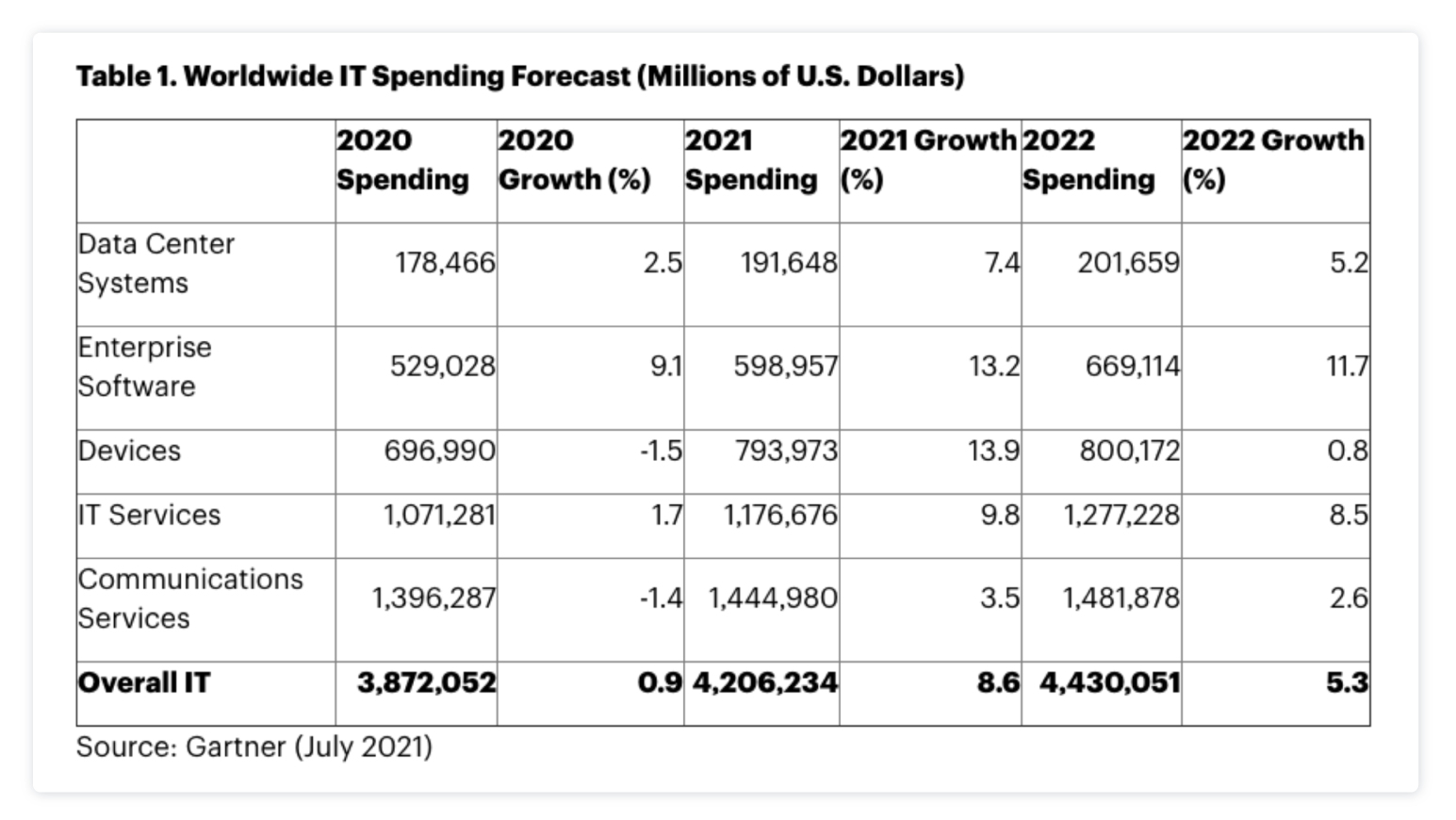 "Manage Workloads Centrally" - The DevOps and Cloud InfoQ Trends Report
The latest edition of Infoq's DevOps and Cloud Trends Report has been released and includes several interesting takeaways. The report believes that hybrid cloud approaches like Google Anthos and Microsoft Azure Arc have evolved to allow cloud services to run outside of the cloud. Enterprises are increasingly looking to manage the infrastructure for their workloads centrally regardless of where those workloads are running.
Observability, Edge Computing and Open Telemetry remain popular topics among practitioners. With the rise of both MLOps and DataOps, the report identified increasing adoption for 'DevOps for Data' over the past year.
Are CIOs the New Overlords of IT Organizations?
CIOs have gained new clout and authority post-COVID-19, according to InformationWeek. With digital transformation becoming the norm, CIOs have become cross-functional leaders helping companies navigate the digital journey.
"The pandemic undoubtedly expanded the power and influence of the CIO significantly, but the signs of this shift were evident before the pandemic," said Khalid Kark of Deloitte. As the world slowly goes back to work, CIOs are no longer pure technology leaders.
"The CIO role will become more ingrained into the fabric of strategic organizational design and it will only grow in importance," said Rahul Mahna, virtual CIO of EisnerAmper.
AIOps - A Force To Reckon With
Deloitte's Chief Cloud Strategy Officer David Linthicum wrote about the main business benefits of AIOps, and why we need to modernize our thinking when it comes to managing modern cloud infrastructure. The core idea of emerging AIOps tools is that they abstract the resources. They also support cloud, non-cloud, legacy, traditional, and all technology that must support the business.
Matthew David, Digital Leader at Accenture believes there has never been a time where the need to automate IT operations has been greater because "the demand for digital systems has increased beyond the ability of many IT teams to support the network."
If you are planning to implement AIOps, here's a guide to help you get started.
We Don't Need Kubernetes! Or Do We?
When Mark Zumstrull, a coder at Ably wrote a blog post on why Kubernetes was not the right choice for his company and wasn't necessary to scale, he probably didn't think it would knock Ably's website offline. But that is exactly what happened as Zumstrull's blog went viral, sparking a debate in the blog's comments section on how effective and necessary Kubernetes is as a container orchestration platform.The spike in web traffic to the blog crashed the whole Ably.com site (though Ably's non-Kubernetes-based publish-and-subscribe messaging service was not affected)
Pro-Kubernetes commenters on Zumstrull's blog post pointed out the value of standardization and the K8s community. Kubernetes' detractors described it as a "bureaucratic and technical nightmare." Kubernetes helps with container orchestration. It offers diverse functionality such as self-healing, automated rollouts/rollbacks, container lifecycle management, and helps our teams focus more on improving the product.
The US DoD Embraces Hybrid Cloud
The US Department of Defense seems poised to adopt a hybrid cloud strategy after canceling the Joint Enterprise Defense Infrastructure (JEDI) cloud solicitation and initiating contract termination procedures with Microsoft. JEDI was a 10-year, $10bn cloud computing contract that the Pentagon signed with Microsoft in 2019. Amazon filed suit that the Trump administration had pressured the Defense Department to award the contract to Microsoft to punish Amazon founder Jeff Bezos for alleged unfavorable coverage of the Trump administration in the Bezos-owned Washington Post.
In a press release, the Department of the Defense said that JEDI no longer met its needs and that it would need to "leverage multiple cloud environments" to execute its mission going forward. JEDI will be replaced by the Joint Warfighter Cloud Capability (JWCC), which would be a multi-cloud, multi-vendor Indefinite Delivery-Indefinite Quantity (IDIQ) contract. So far only AWS and Microsoft Azure meet the Pentagon's requirements, though the bidding will likely be thrown open to other hyperscale cloud service providers like Google, IBM and Oracle as well.
Beware, Ransomware!
Early this month, IT management vendor Kaseya faced a supply chain ransomware attack that compromised its VSA remote management software, affecting at least 50 of its MSP customers and up to 1500 organizations that subscribed to their services. They were forced to shut down their VSA SaaS service while notifying customers to shut down their own VSA servers. The ransomware was spread by a fake VSA agent update, which instead installed the REvil ransomware, the same group behind several recent high-profile ransomware attacks. This comes close on the heels of the SUNBURST attack on SolarWinds.
Apart from cyberattacks, data breaches are on the rise. 94% of organizations have suffered from insider data breaches according to a recent study by Insider Data Breach Survey 2021. Though 84% of IT leaders surveyed reported that human error was the largest cause of these breaches, 28% still claim that intentionally malicious behavior is their number one concern. Here's how OpsRamp is tackling the threat.
Industry Recognition
OpsRamp has been featured in eight Gartner Hype Cycles this year. This demonstrated OpsRamp's growing brand recognition as we were listed as a representative vendor across three different technology categories across those eight Hype Cycles.
We have also been selected as a finalist in the 2021 SaaS Awards Program in the category "Best Enterprise-Level SaaS Product.". Kudos to OpsRampers for the recognition!
Next Steps: