Our recent webinar on 2019 Performance and Management Trends and Insights featured Nancy Gohring, Senior Analyst at 451 Research and Darren Cunningham, VP of Marketing at OpsRamp. The webinar reviewed key findings from recent surveys on performance monitoring and how IT automation investments (artificial intelligence and machine learning) are helping enterprises combat the twin problems of alert fatigue and incident downtime.
Three Signposts Reshaping Performance Monitoring in 2019
With the growing diversity of modern technology environments, IT teams will need a new set of skills, technologies, and processes to master hybrid infrastructure complexity and deliver the right business outcomes. Technology teams will need to shift from reactive and static monitoring to proactive and predictive IT operations to remain relevant in the age of digital business. Here are three major trends facing performance management teams today:
The Modern Application and Infrastructure Ecosystem Is Complex.

Modern applications are no longer self-contained monoliths but increasingly embracing microservices, containers, container management systems, and serverless technologies. As developers deploy these cloud native technologies, IT operations teams are increasingly working with public cloud, multi-cloud, and hybrid infrastructure to host, manage, and optimize digital services.

451 Research's Voice of the Enterprise: Digital Pulse, Workloads and Key Projects 2018 survey found that IT decision makers will more than double their workloads running on public cloud infrastructure while on-prem and traditional IT infrastructure will shrink by more than half in the next two years. What's driving increasing cloud adoption? The need for speed is the biggest driver for the popularity of public cloud and cloud native services. In the case of container adoption, 80% of IT pros feel that containers decrease application resource provisioning time from days to just hours and minutes.



Figure 1 - The need for speed is a big driver for the adoption of modern technology workloads.

Increasing Pressure on IT Teams to 'Do More With Less'. In the light of increasing infrastructure complexity, IT operations and DevOps teams are being asked to accomplish more with smaller teams and reduced budgets. 451 Research's Voice of the Enterprise: Servers and Converged Infrastructure, Organizational Dynamics 2018 survey found that while there was an increase in the amount of work performed by IT infrastructure teams, a majority of IT leaders expect no growth in their overall team size and 12% actually think that their IT infrastructure headcount will actually reduce over the next year.



Figure 2 - DevOps teams are being asked to move faster but without any additional resources.

The Problems of Tool Proliferation.

Organizations are often stuck with legacy and stand-alone monitoring tools which are not connected to each other. Fragmented monitoring results in siloed operations, with domain-centric technology teams only looking at a narrow slice of data for event troubleshooting and IT outage handling. The problem with having too many tools is that it becomes really hard to identify the probable root cause of an IT service degradation and restore operations in real-time.



Figure 3 - Despite all the investment in tools, it still takes five hours to recover from an IT outage.
Four Ways to Reduce IT Operational and Performance Pains
The most important goals for IT today is to respond faster to business needs, enable greater innovation, improve reliability and availability, and ensure security. IT operations and DevOps teams can become more proactive and reduce the mean-time-to-resolution for critical incidents by:
Embracing Automation. Automation is no longer a choice, but a necessity for IT operations teams faced with holistic visibility challenges for root cause analysis and the need to move faster with reduced resources. 451 Research's Voice of the Enterprise: Digital Pulse, Budgets and Outlook 2018 survey found that that 75% of IT decision makers will increase IT automation investments in 2019.

Employing Artificial Intelligence/Machine Learning

. 451 Research's Voice of the Enterprise: Artificial Intelligence/Machine Learning (AI/ML) 2018 survey shows that 58% of IT practitioners expect AI/ML to have a significant impact on performance monitoring and management. The field of machine learning is constantly evolving and is critical to make sense of the huge amounts of monitoring data in a hybrid environment. When a monitoring tool can predict a service outage and provide the right context to fix a problem, IT teams can accurately kick off a remediation to address the issue.
Evaluating Platform Vendors. Platform vendors offer three or more distinct capabilities that are tightly integrated across their offerings. 451 Research's Market Monitor & Forecast study found that platform vendors are generating the same amount of revenues as stand-alone monitoring tools, despite there being 10x more stand-alone tools in the market. Platform vendors offer real-time information processing for performance management as well as proactive insights for rapid incident resolution.
Working With SaaS Tools. 451 Research's Voice of the Enterprise: Digital Pulse, Workloads & Key Projects, 2018 finds that organizations are moving apps (including monitoring tools) off-premises to reduce IT costs (38%), enhance systems agility (37%), improve access to new technology resources (35%), and modernize IT infrastructure (32%). SaaS-based monitoring vendors are able to run machine learning algorithms across their customer data so that they constantly finetune their algorithms and help customers pinpoint the root cause(s) of a problem with context and insight.
The OpsRamp Impact: How We Address Modern IT Operations Challenges
OpsRamp's mission is to help organizations 'be the first to know' with multi-cloud infrastructure discovery, monitoring, and incident management capabilities. Some of the world's largest enterprises and service providers use OpsRamp to handle dynamic and distributed IT operations with:
Innovative SaaS-based Platform. The OpsRamp SaaS platform acts as a 'digital operations command center' by delivering the right operational insights across multiple business units, IT services, and point tools. OpsRamp's multitenant, multi-tier architecture ensures a truly contextual and transparent view of your business services and underlying infrastructure workloads. Individual tenants in OpsRamp can operate independently but have the right governance and controls in place across a global and federated enterprise.
Machine Learning-Powered AIOps. OpsQ, the event management engine that powers the service-centric AIOps solution, extracts signal from alert noise with machine learning-based correlation techniques. OpsQ has helped customers reduce raw alerts by 81% and achieve an overall 96% decrease in incident count.
Automated Remediation. OpsRamp's IT process automation helps address repetitive IT incidents using policies for faster remediation and better service uptime. Runbook automation policies ensure consistent execution of incident response tasks with accurate incident diagnosis, analysis, and resolution.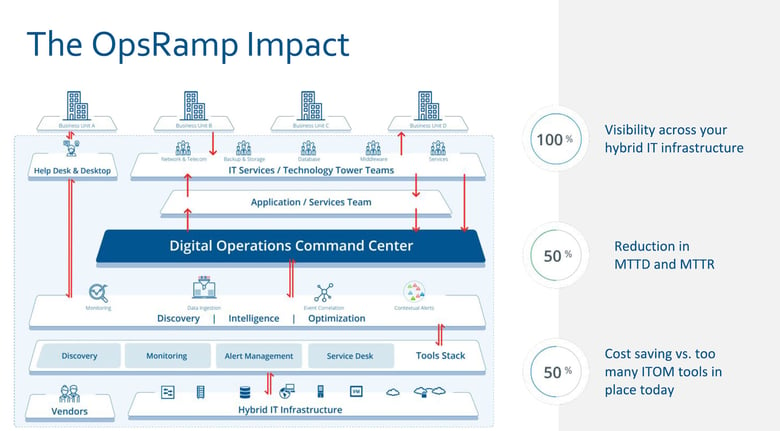 Figure 4 - Deliver true efficiency for hybrid operations management with OpsRamp.
Watch the on-demand webinar to learn what's hot, what's new, and what's next in the dynamic world of performance monitoring. You can also view the webinar presentation in the SlideShare link below:
Next Steps: