For years, technology vendors have promoted the 'single pane of glass' (SPOG) as a silver bullet for service-oriented management. The promise was simple: buy this mega-suite of tools and get a single view of your IT environment. Vendors assured visibility, efficiency, simplicity, and scalability as the end goal for deploying 'single pane of glass' solutions.
Bojan Simic, the founder of the Digital Enterprise Journal, explains why the vision for a single pane of glass has been so compelling, "Organizations that are using a single pane of glass capability for IT performance management are able to manage 36% more users per IT FTE as compared to all other organizations...Challenges of the increasing complexity and transformation of IT are making it apparent that a centralized, service-centric view into IT environments has become a "must have" capability for IT Operations."
Single Pane of Glass: Myth or Reality?
Unfortunately, the promise of a single pane of glass for IT monitoring and management has resulted in a lot of vendor hype with little actual results. And the concept has received its fair share of negative press over the years. Here's a sample of what industry thought leaders (John Allspaw, Lindsay Hill, Mike Julian, Brian Kirsch, John Willis, and Chris Wolf) have said about the SPOG: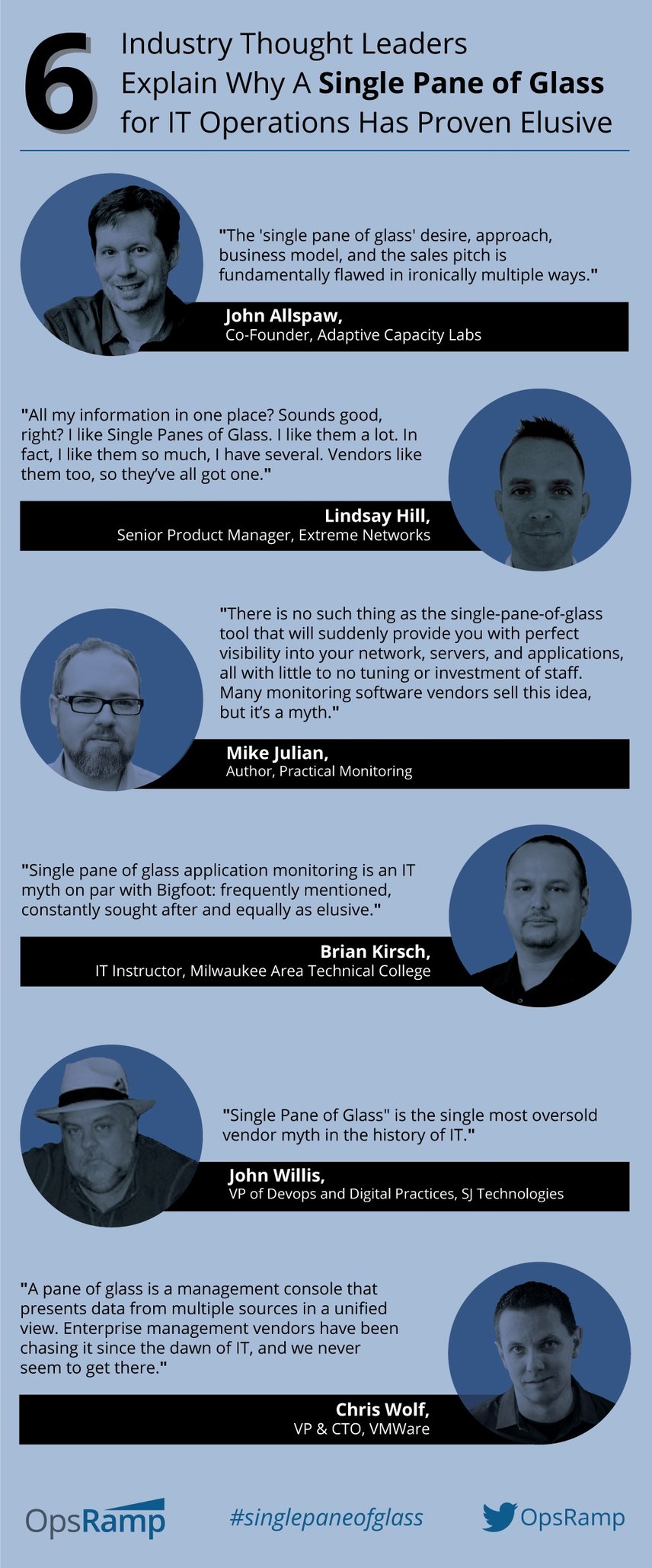 Why Has It Been So Hard To Get The Single Pane You Need?
As industry experts attest, achieving a single pane of glass for IT Operations has proven to be difficult in practice. In fact, the promise itself has become cliché. In the world of hybrid IT, DevOps, SREs, multi-cloud, serverless, infrastructure as code, and IT Operations as a service (ok, might as well throw in Blockchain, IoT, and AI to be fully buzzword compliant), why has the promise of a single pane of glass been more pain than pane for IT Operations teams?
Here are five reasons why the SPOG has been a non-starter for most IT teams:
1. FrankenOps: For many IT Operations leaders, the single pane of glass brings back memories of legacy technology stacks cobbled together through point tool acquisitions. Think BMC, CA, HP/Micro Focus and IBM. "FrankenOps" is an appropriate term for these so-called suites that run best in PowerPoint, not production.
2. DevOps Tool Proliferation: The promise of DevOps is agility, quality, and transparency. I'm a believer. But for many organizations, the need for speed has resulted in rogue tools and teams, disconnected data, and even more silos. This is my favorite DevOps toolchain graphic from Atlassian: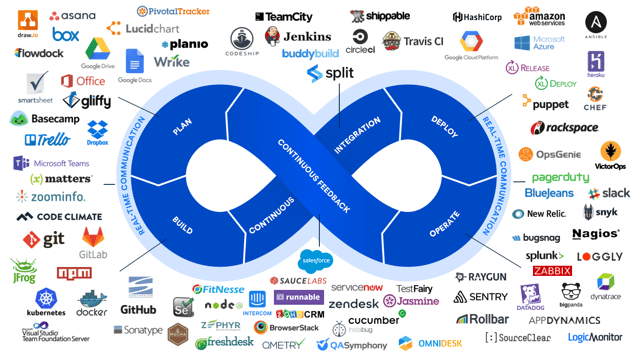 Figure 1 - With An Expanding Universe of DevOps, IT Operations Management and Analytics
Tools, How Realistic Is To Aspire For A Single Pane of Glass? (Image Courtesy: Atlassian)
In the modern, API-first world, it's expected that these tools will work together seamlessly. But what about your legacy technology stack? Is visibility across your entire environment still a noble goal for central IT Ops teams? Tool proliferation without governance has definitely had an impact on IT Operations visibility.
3. Bimodal Complacency: In 2014, Jason Bloomberg from Intellyx called Bimodal IT, "a recipe for disaster." He cautioned that "for digital transformation to be successful, it must be end-to-end – with customers at one end and systems of record at the other." The adoption of bimodal IT, with two distinct speeds for your IT operations teams in an increasingly digital world, will result in many panes of glass.
4. Technical Debt: If you've worked in the same role for more than five years, you're working with legacy systems, processes, and culture that hold your teams back. Technical debt is a big reason why CIOs can't deliver transparency and fast feedback loops across their entire organization. In the era of digital transformation (there, I said it), speed is the new black for enterprise IT.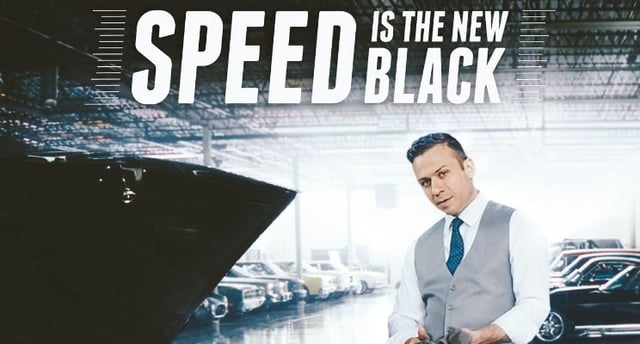 Figure 2 - CIOs Will Need To Deal First With Technical Debt Before They Get Going
On Digital Transformation. (Image Courtesy: Velocity TV)
5. Decentralization Without Oversight: IT organizations have adopted the shared services model for greater alignment, security, and business value. Unfortunately, achieving a unified view of services across divisions, lines of business, or even departments has not been easy. This is particularly true for global 2,000 organizations where central IT groups seek alignment, coordination, and economies of scale across distributed teams. Massive investments in mega-vendor Frankenstein suites that are difficult to deploy, customize, and upgrade have most certainly resulted in pain...and a lot of software maintenance fees.
Does It Have To Be This Way?
As the digitization of processes, systems, and tools becomes more common, the promise of a unified interface is more necessary than ever before.
Modern IT Operations teams need actionable and contextual insights for visibility and control of hybrid workloads. How do IT teams bridge the old world of legacy systems with the new world of cloud, microservices, and Kubernetes? A consolidated view of IT Operations will deliver greater confidence and transparency between central IT teams and business partners.
I don't believe the desire for a single pane of glass is an obsolete and misguided notion. In fact, the SPOG will be critical as IT Operations management evolves to IT Operations-as-a-Service. In the coming blogs, we'll dive into what that looks like and how you can achieve the right visibility and governance with a single pane of glass.