Enterprise cloud computing has come a long way in the last few years. CIOs have embraced cloud delivery to usher in innovation and operational agility. Industry observers concur: cloud infrastructure spending will grow 30% between 2013 to 2018 while the enterprise IT market will increase by only 5%.
CDW's recent report, Cloud 401: Navigating Advanced Topics in Cloud Computing highlights the strategic importance of hybrid cloud in the enterprise. CDW surveyed 1,200+ IT professionals with differing responsibilities to understand cloud adoption trends. Let us review some findings from the report.
Cloud Gets Real. 35% of enterprise services are partially or fully delivered in the cloud and 35% of new services will be delivered only through the cloud. Storage, compute, and applications are the leading use cases for cloud. The adoption of microservices has allowed developers to leverage public cloud architectures for creating small services that can be independently deployed. Enterprises are using microservices to speed up application releases and compete on a more even footing with nimbler startups.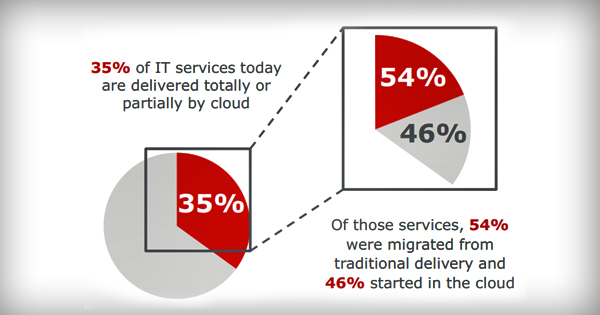 Enterprise workloads are swiftly transitioning to the cloud, from the Cloud 401 report
SLAs Are A Work In Progress
. Three-quarters of respondents confirmed that their cloud vendor failed to meet the agreed service level agreement (SLA). With SLAs favoring sellers at this point, enterprises are struggling to define the right metrics for cloud services. The best way to hold vendors accountable is to
specify metrics
for "predictable performance levels, consistent response times, and expandable service."
Integration Challenges Are Slowing Down Adoption. 59% of IT pros would use more cloud services if the challenges of cloud integration and migration can be addressed. Enterprises are still figuring out how to modernize their application and infrastructure architectures while tapping into the power of the cloud. A documented cloud migration strategy will help clarify which systems to migrate to the cloud and which services to keep in-house.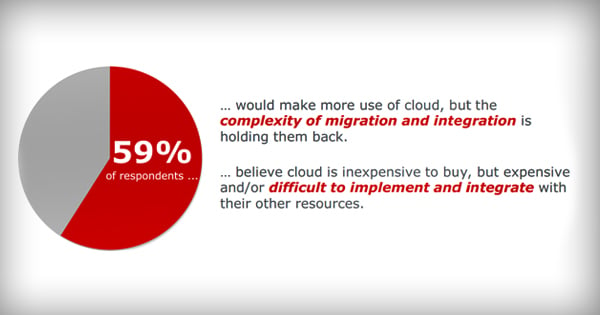 Enterprises are struggling with cloud migration and integration, from the Cloud 401 report
Cloud Deployments Are Happening Faster. Despite all the growing pains, organizations are getting better at cloud implementations. Enterprises have been able to reduce their deployment cycles from 14 weeks to 10 weeks, with 50% finishing their implementation in less than 6 weeks. Organizations that invest significant time in planning and preparing for a cloud migration have been able to deliver immediate payback for cloud initiatives.
Whether you are a cloud veteran or just starting your cloud journey, CDW's Cloud 401 report is a quick read on the advantages and pitfalls of cloud adoption. If you are looking for an enteprise grade hybrid cloud management platform, reach out for a free demo on how OpsRamp delivers visibility and control across your hybrid IT infrastructure.