Modern IT solutions use cloud infrastructure to provide benefits like scalability and on-demand provisioning in provisioning and managing enterprise infrastructure. The hybrid cloud model leverages internally and externally sourced cloud services together. But adopting a hybrid cloud model creates new challenges for monitoring, metrics, and infrastructure management. How can you ensure that your enterprise is provisioning and managing its hybrid cloud infrastructure optimally?
Hybrid Cloud Services and Enterprise IT
By leveraging external cloud services for the delivery of IT services, businesses can offer new IT solutions more quickly and more cost effectively. Cloud services represent a new model for IT service delivery by quickly providing transparency in service levels and costs.
IT is now taking the role of an aggregator of internally provided services with externally available ones. This change increases the importance of metrics, which allow an enterprise to measure the quality of service they are providing regardless of the provider.
The hybrid cloud creates a bridge between internal and external IT services. This new relationship increases the need for enterprise IT to be accountable for measuring and analyzing how valuable a service or infrastructure element is to the quality of service IT is providing. Proper use of metrics enables IT to maximize capacity utilization and enables the business to allocate resources within the organization for maximum return on investment.
Use of Metrics in IT Services: Service Level Metrics
Service Level Metrics measure attributes that directly affect the user experience. These metrics can be broken up into three categories: availability, performance, and service fulfillment metrics.
Availability Metrics
Availability metrics quantify the uptime and downtime of IT services.
Table 1. Metrics Commonly Used to Quantify Availability
| | |
| --- | --- |
| | Typical Measures |
| Servers | OS service or agent status |
| Network Devices | |
| Applications, URLs, Web Services | |
IT administrators need to consider the following when monitoring availability metrics:
Should you track individual elements or should they be tracked together as a service composed of multiple elements?
Is availability a binary quantity (up/down) or more fine-grained?
Should you differentiate between planned downtime and unplanned downtime?
Performance Metrics
Performance measures how responsive the service is to the user or application requests by capturing throughput and latency.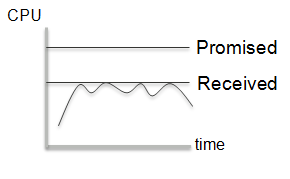 Promised CPU capacity is not always delivered by service providers. Vistara enables enterprise IT to monitor how much capacity is available and how much is being used, making it easy to measure if you are getting what you are paying for.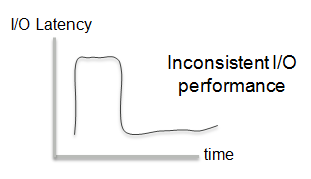 The service shown in this graph starts with very high latency and then shows lower latency as time goes on. This indicated that an unknown issue may be preventing consistency in the quality of service.
Table 2. Metrics Commonly Used to Quantify Performance
| | |
| --- | --- |
| | Typical Measures |
| Servers, Cloud Instances | time to resolve service requests |
| Applications, URLs, Web Services | response time to requests - transactions |
IT administrators need to consider the following issues when monitoring performance metrics:
Which metrics are the best measures of performance?
What statistical measures should be used to define response times?
How can you ensure cloud instances are receiving promised resources (such as CPU capacity, as seen in the graph above)?
Service Fulfillment Metrics
Service fulfillment monitors time to completion or frequency of updates for management tasks.
Table 3. Metrics Commonly Used to Quantify Service Fulfillment
| | |
| --- | --- |
| | Typical Measures |
| Service Requests | time to resolve service requests |
| Server Patching | time lag between patch release and patch roll out |
| Antivirus | |
IT administrators need to consider how resource usage will be accounted for within a shared infrastructure when monitoring capacity and cost metrics.
Service Delivery Metrics
Service delivery metrics focus on how effectively IT is delivering its services to the customer by measuring if problems are being resolved and monitoring capacity utilization. These can be broken up into three categories: problem, response, and capacity and cost metrics.
Problem Metrics
Problem metrics measure how often specific types of issues occur.
Table 4. Metrics Commonly Used to Quantify Problems
| | |
| --- | --- |
| Type | Practical Measures |
| Common Problem Types | problem and incident tickets by problem type |
| Failure Modes of Devices & Applications | OS / application error codes |
Response Metrics
Response measures how quickly problems are being resolved.
Table 5. Metrics Commonly Used to Quantify Response
| | |
| --- | --- |
| Type | Practical Measures |
| Incident and Problem Resolution Times | |
| Incident and Problem Resolution Rate | |
| Correctness and Completeness of Resolution | ticket volume by problem type |
Capacity and Cost Metrics
Capacity and cost monitors how efficiently capacity is being used, how much capacity will be required in the future, and how much these services cost to deliver.
Table 6. Metrics Commonly Used to Quantify Capacity and Cost
| | |
| --- | --- |
| Type | Practical Measures |
| Resource Utilization | |
| Demand Forecasts | average VM sizes over time |
| Hardware Costs | server and software license costs |
| Resource Usage Accounting | network used by different types of virtual machines |
Top IT Organizations Use Metrics Effectively
The most consistently successful IT organizations use metrics in order to enhance the quality of their services. By analyzing metrics such as contribution to business value, IT service providers can ensure that they bring a high level of service. Below average IT organizations show lower use of IT metrics across the board.1
External metrics provide the most accurate look at how successful an IT organization is doing. These external metrics, which can measure the IT department's direct contribution to a business outcome or compare it against benchmarks from competition, need to be measured in order to understand how well the IT organization is performing compared to similar ones.
IT must proactively define and drive measurements by gathering data for benchmarking, using metrics with historical baselines to ensure validity, and finding which metrics will work best with the organization. If an IT organization attempts to gather data in response to an executive request, the delay may harm their credibility.2 By mapping out the process that is required to offer your service in advance, you can identify the process outcomes and any reasons that are preventing you from achieving your service-level agreements.
Transparency Through the Hybrid Cloud and Self-Service IT
Hybrid cloud systems let an organization choose between using internal services and external cloud-based services. Self-service IT empowers the line of business choose what IT services are needed. By embedding detailed service descriptions and costs in a clear statement, IT service catalogs provide a tool for choosing the most rational options for IT services without having to contact IT directly.
Metrics to Consider for Cloud Services
The flexibility of cloud-based services enables faster response to problems and provides the ability to increase or decrease capacity as it is needed. IT organizations do not always monitor the following metrics in other contexts, but they are particularly valuable for cloud-based services:3
Agility measures whether IT can respond in real-time to changes in demand or business needs
Elasticity measures how much a company's capacity can scale up or down to match demand
Continuity measures the maximum time between interruptions
Consistency measures whether variations in service levels can be reduced
Vistara as a Unified IT Operations Management Solution for Enterprise IT
With hundreds of built-in monitoring templates, Vistara is able to collect metrics across your entire infrastructure (including servers, applications, storage, and networks).
Built-in analytics extract relevant metrics such as availability, performance, problems, response time, and more.
Management reports produce formatted presentations that highlight key trends seen in the metrics being used most frequently. Vistara also manages your entire IT infrastructure through a true pane-of-glass style tool.
IT service catalogs provide an easy-to-use resource for managing both internal and external IT services. By embedding the cost model in the catalog itself, services can be chosen optimally. This system allows line of business professionals to create resources or services as needed.
Vistara provides a comprehensive tool to accomplish all of your enterprise IT needs, and allows you to manage your entire system in response to what you learn from collecting, measuring, and analyzing the metrics that are most influential to your business.
References:
1Kurt Potter, Gartner Inc., "Top Performers Use More Metrics," 10 September 2012.
2Kurt Potter, Gartner Inc., "IT Metrics: Intervention to Avoid Strategic Missteps with IT Benchmarking and IT Cost Transparency," 24 August 2012.
3Tapati Bandopadhyay, Gartner Inc., "Business-Aligned Metrics for IT Services in Cloud:Returns on Agility, Elasticity, Continuity and Consistency," 10 January 2012.