"To improve is to change; to be perfect is to change often."
- Winston Churchill
"Learning and innovation go hand in hand. The arrogance of success is to think that what you did yesterday will be sufficient for tomorrow."
- William Pollard
Change. This was the central theme at the Gartner IT Operations Strategies and Solutions Summit (ITOSSS) last week in Orlando. In his closing session, An Infrastructure and Operations Vision for 2020 and Beyond, Milind Govekar noted: "We used to build infrastructure to last. Now we must build for change." He concluded with this guidance: "IT is moving fast. Be a driver, not a passenger!"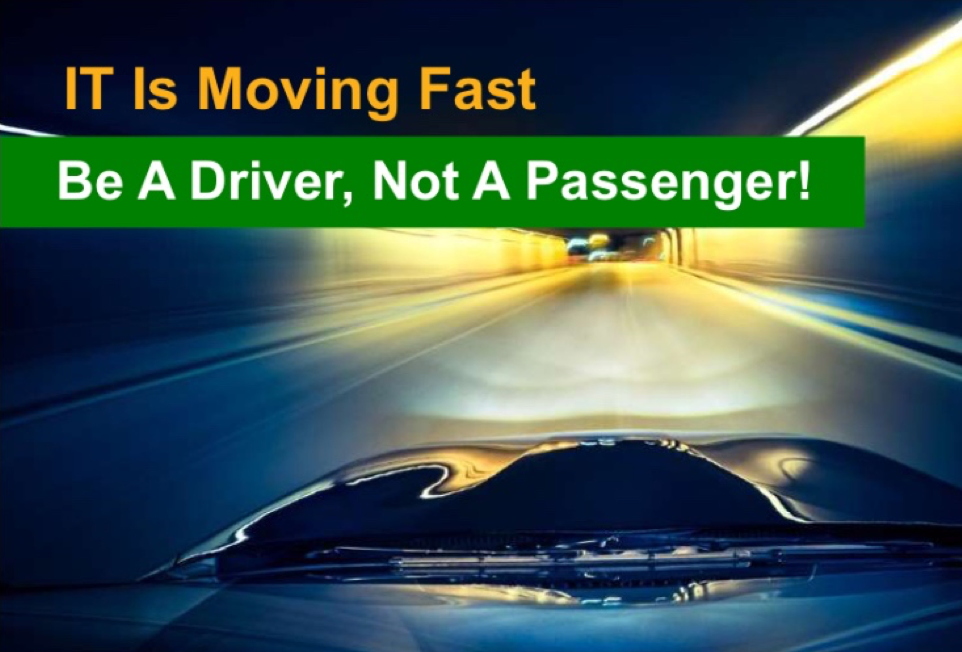 This is the 2nd ITOSS I've attended and it sounds like it will be the last. Next year the conference will be merging with Gartner's Data Center conference in Las Vegas next year. This isn't surprising, given how so many of the traditional IT Operations Management (ITOM) software categories are also converging in the digital era. What makes this conference great is the focus on the role of IT Operations and how leaders and teams in this function have the opportunity to be the drivers of digital disruption and transformation...or risk becoming irrelevant.
The opening keynote set the stage. Miland introduced the track leaders, who outlined the focus areas of the five tracks:
To truly lead business innovation and drive digital transformation requires a fundamental re-thinking and re-envisioning of IT Operations. Leadership, product versus project focus, new skill development, and a platform-centric approach were recurring themes that showed up in every session I attended.
Shift from service first to platform first in 2020 #GartnerIO pic.twitter.com/5iU0o9TXdz

— Vidhya Srinivasan (@vidsus) May 15, 2018
One observation before I share some of the takeaways from the show. I noticed that show attendees aren't super active on Twitter. (The hashtag is mostly vendors and a few analysts posting.) From what I could tell though, attendees were too busy taking copious notes in sessions, capturing the occasional photos of key slides to take back to their teams, networking with peers, and engaging deeply with the vendors in the exhibit hall. It was impressive observing the focus of #GartnerIO attendees. It was clear that it was the right message being received at the right time. Now it's all about putting together the right action plan.
Okay, here are eight lessons for IT Operations teams that I gathered from the 2018 summit:
Business outcomes matter most: Focusing on business outcomes was a common refrain. There were a lot of sessions that spoke to the need for new KPIs and a new operating model for IT Operations. IT teams and business stakeholders need a better-shared understanding of business value metrics. Too many IT Operations teams are unable to connect their KPIs to the business priorities. ITs new role isn't about delivering services to the business, but how to enable the business. The conversation needs to change from IT alignment with the business to IT embedded in the business. IT must move from being the bottleneck to being the enabler of new business models and technologies.


Last day of @Gartner_inc #GartnerIO it's about measuring "business outcomes" instead of monitoring electrons

— Jonah Kowall (@jkowall) May 17, 2018

Put the customer first: We're living in an era where customer loyalty is being measured in a matter of seconds on your website. A frequent theme was the need for IT Ops teams to take a more outside-in approach and focus on the digital customer experience. It used to be about optimizing for IT. Now it starts from where the customer sits and where the business needs to go. IT teams need to show that what they do have relevance as "80% of large enterprises will integrate customer touch points to increase revenue, profits, and satisfaction." It's all about ensuring customer value and retention with the right digital experiences.

Digital immaturity is not an option: Gartner loves to introduce new terms - some stick, some don't. Digital dexterity and the so-called versatilists were terms used in many presentations. The keynote observed that, "Investors are rewarding companies with high digital maturity. There is a correlation between digital maturity and company results."


The New Digital World - will require the ability to scale up, across, and out. Platform thinking required. #ControlTheChaos #GartnerIO pic.twitter.com/PZJODQSXCs

— Darren Cunningham (@dcunni) May 17, 2018

Cloud computing is not a destination: Gartner has gone all in on the shift to the public cloud: "By 2025, 80% of enterprises will have closed down their traditional data centers vs. 10% today." But the bigger journey is the digital business journey, as there is a blurring between the physical and virtual worlds. ITs function isn't to run data centers, it's to deliver services that help businesses grow, innovate, and stand out from their competitors.

It's time to consolidate your monitoring tools: Assess your overall monitoring strategy and streamline your toolset - It's not about how many tools but having the right tools. I attended a number of sessions on monitoring, where there is a great deal of disruption and consolidation. Legacy tools aren't suitable for modern, cloudy, distributed architectures. And while developers will need to instrument early and often, byte-code instrumentation is the anti-pattern of microservices. Charley Rich commented that 5 new vendors were probably launched during the session to solve the modern challenge of cloud and microservices monitoring. Transaction tracing is hot and getting hotter, but the efficacy is still under question. There was an emphasis on the need for data science skills as the 3 V's (volume, variety, and velocity) of big data are the same challenges in the modern monitoring and observability world. And when it comes to the dream of a Single Pane of Glass, Charley Rich quipped that it often ends up as a "Single Glass of Pain." He encouraged attendees to seek out role-based dashboards that deliver the right information at the right time.

Get smarter and automate: On the flight home I watched National Geographic's Year Million. Pretty scary stuff. AIOps was definitely a hot topic at the conference. Automation was hotter. I asked one attendee what he wanted to learn about most and his answer was: automation, automation, and automation. There was a great session called 12 Steps to AIOps Success, which talked about how I&O leaders "must radically modify IT Ops tasks and processes, following 12 experience-forged steps." The message here was to build your capabilities to support proactive use cases as you work towards establishing an enterprise-strength AIOps digital platform.


The case for AIOps is strong. #GartnerIO it's not just about alert fatigue. @newrelic real-time audience survey cool. pic.twitter.com/Se17lm42rQ

— dina milazzo (@dmilazzo1) May 16, 2018

It's the people and process: "90% of DevOps initiatives will fail to fully meet expectations due to leadership challenges – not technical reasons." Ok, maybe the expectations are a little high, but the message here was that leadership, and the ability to motivate people and hold them accountable with the right DevOps metrics will be the key to success, not technology. Makes sense. The other side of this is the skills gap. How do you attract and retain the right talent? How to develop new skills? How do I get my staff to keep up? The two biggest complaints about cloud computing Gartner hears most are: "It's more expensive than we thought and my staff isn't ready for it." The secret to digital is analog - people will make the difference.



Relevance as a Service: In the new world, infrastructure is not something we are going to own, but it is something we need to control. "If there's a problem with performance, they'll call me, not the cloud provider." I like the term that David Cappuccio uses: "Distributed Digital Infrastructure Management." We've seen a rise of "Business Unit IT" as every business unit has now become a technology unit (or more like a startup). How does IT keep pace? To be relevant, the answer is to think of IT Operations as a service broker, or as we call it, "IT Operations as a Service." We've gone from craftspeople to industrialization to platform thinking, which requires a new Digital Platform Model. IT Operations is being challenged to change their thinking from protecting the business to enabling the business. This requires new thinking. It requires scaling up, out, and across as you become versatilists. And it requires digital dexterity.


I hope you find this summary helpful. There was also a ton of great activity in the exhibit hall. Our Control the Chaos t-shirts were very popular. At the show, we announced our new Unified Service Discovery solution and our 48 Hour IT Asset Visibility Challenge. We're looking forward to being a key enabler of your digital transformation. Here's a clip of the OpsRamp team in action:
Good morning #Orlando! Day 2 of #GartnerIO today and we are back. #ICYMI here is a quick snapshot of OpsRamp's Day 1 at Gartner ITOSSS 2018.#ControlTheChaos #JordoAtGartnerIO pic.twitter.com/lYFedLAx5A

— OpsRamp (@OpsRamp) May 16, 2018
Thanks to the Gartner team for a fantastic event. As Milind Govekar said in his closing remarks: "May the digital force be with you."