This is a companion post to a recent webinar with an OpsRamp partner, Flycast Partners. Check out the recorded webinar on YouTube and slides on SlideShare for the potential impacts of ITSM and ITOM silos and how a modern ITOM platform can help improve bi-directional collaboration and reduce mean-time-to-resolution.
In a modern enterprise that's reliant on improving internal and external customer experiences for competitive advantage, system health and uptime are more important than ever to drive revenue and meet business goals. Typically, the responsibility for service uptime falls on two distinct IT teams: IT operations management (ITOM) and IT service management (ITSM).
IT operations management teams focus on the proactive monitoring of system health and uptime, while IT service management teams track and remediate end-user issues. These two teams are reliant on one another to accomplish their shared objectives of responding to business needs quickly and delivering a rapid resolution of business-critical issues. Over time, these two teams have grown separate from one another and the silos that have manifested between them have created real challenges not only for the IT organization but more critically for the enterprise. However, with improved integration, collaboration, and transparency across these teams, these challenges can be overcome.
Complexity Is the Collaboration-Killer
The reasons for these two organizations within one IT function becoming so siloed can be varied – internal processes or territorial behaviors notwithstanding. The increase in customer (or business user) expectations and demands have put stress and time constraints on IT organizations. These stressors combined with a rapidly changing IT environment that has grown increasingly complex – requiring swivel-chair operations between multiple monitoring and management tools – further complicates things.
The difference in philosophies and processes between these two teams could also be widening the silos between them. ITSM teams typically employ a fairly rigid ITIL-based process framework to systematically address incidents as they occur. With increasingly decentralized IT environments, infrastructure management has become more agile and adaptive. IT operations teams have transformed into a new model of DevOps (with agile development and deployment methodologies) to more quickly – and even proactively – respond to business needs. These iterative integration frameworks conflict with ITIL's test-at-the-end sequential nature.
In the face of rising hybrid infrastructure complexity, shifting approaches, and increasing customer demands, it's clear that these two IT organizations need to integrate their approaches in order to shift toward more service-centric operations.
A Future of Alert Floods
No matter what the cause of siloed ITSM and ITOM practices, the result across both teams can be crippling. The lack of integrated visibility across hybrid, multi-cloud, and cloud native environments results in wasted time and effort in identifying root-cause(s) of incidents. If adequate alert context is not packaged within ITOM and ITSM ticketing systems – including the business service or application impacted – then service delivery teams can't clearly prioritize how to address incoming alerts. And with multiple tools, comes redundant alerts that have no relation to one another. Therefore, the data from each tool needs to be singularly examined – further compounding the time it takes to resolve incidents rapidly.
Business Can Break Down
The silos that have grown between ITSM and ITOM teams along with disconnected, disparate tools have a profound impact on business performance. Extended mean-time-to-detect (MTTD) and mean-time-to-resolution (MTTR) timeframes could mean that enterprises are stalled without access to business-critical applications or data, which in turn degrades organizational productivity. And without proper governance and control over the entire IT environment, policy and regulatory gaps get compounded, putting the company at increased risk.
A Better Solution
Today's IT organizations, from service delivery to hybrid infrastructure management, must be agile, efficient, and flexible enough to service modern IT environments. IT teams must embrace workflows and processes that support continuous change, automated deployments, and interchangeable components. A modern ITOM platform built for hybrid IT can help simplify digital operations while becoming more proactive, so teams spend less time putting out fires and more time serving the strategic needs of the business.
Tight, bi-directional ticketing integration between ITSM and ITOM platforms is critical for capturing the right event context for incident management teams. Bi-directional sync also means that incident resolution details and status is promptly communicated back to the requesting business unit. IT teams will be able to drive proactive monitoring and management by integrating operational insights across monitoring and service desk tools. So, what does a modern ITOM+ITSM platform need?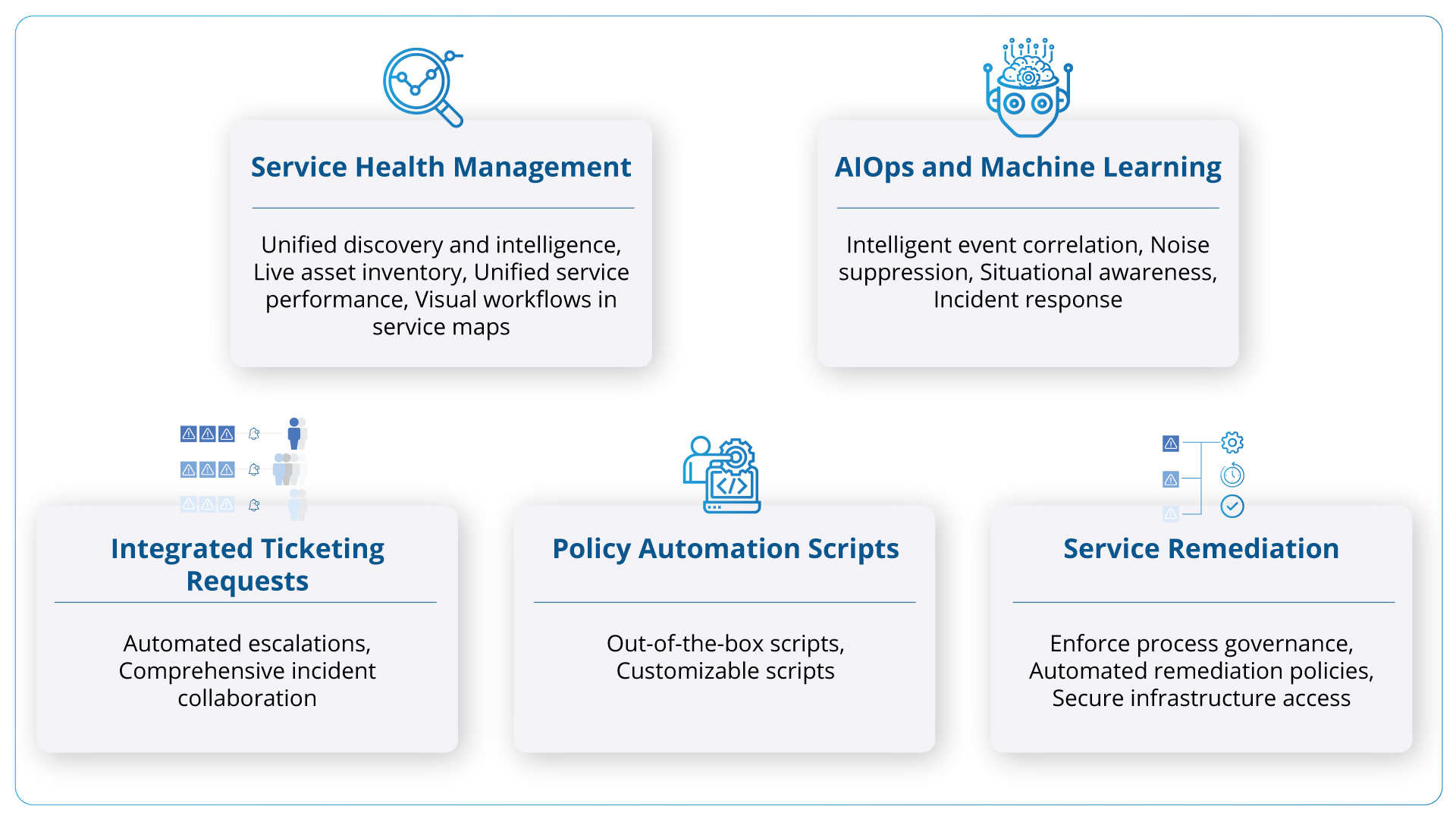 By integrating IT infrastructure monitoring and management functions within one hybrid ITOM platform, teams will no longer waste time bouncing between tools. If there's an incident/alert within the IT infrastructure environment, an AI-enabled IT Operations platform can correlate multiple related alerts, based on the root cause, and reduce the number of tickets to sift through.
Automating incident escalation will expedite the resolution process as well. Faster identification of incident root cause allows teams to escalate issues to the right person who can promptly fix it. And by automating the process of addressing routine incidents with self-healing policies – via customizable scripts – MTTR reduces even further.
Unified Discovery and Topology Mapping of your IT environment helps team members quickly identify the business service impacted and create a ticket to notify business users of potential service degradation and ETA of the fix. IT teams can cut down on the overall number of tickets, reducing wasted effort and providing more time to help the business drive innovation.
As enterprises transform and digital services become more critical than ever, it's imperative for IT teams to unify and maintain uptime with rapid agility. ITOM and ITSM teams can come together to achieve these shared objectives – it just takes the right technology to achieve it.
Next Steps: