In this article:
What you can do in the OpsRamp customer support portal;
How to submit new feature requests;
How to track your requests to resolution.
Customer-centricity is what many companies want to deliver, but what does that actually mean? For an enterprise software company like OpsRamp, it's about user experience and a comprehensive, feature-rich platform that delivers on their needs today and down the road. What new features or enhancements make our customers more productive and successful on the job, using our product? How can the platform work better for our customers and partners? Part of the answer lies in how our customers and partners are using the platform today: from hybrid infrastructure discovery to proactive incident resolution.
That's why OpsRamp is proud to launch the new, improved customer support portal. Customers and partners can use the site to get the latest information about product updates, initiate a support ticket, engage in the community portal to share ideas with peers, and submit requests for enhancements (RFE). The OpsRamp Community portal brings together knowledge base articles for IT management use cases and tips and tricks for maximizing benefits from the OpsRamp platform. OpsRamp customers and partners will need to register on the portal to participate and explore articles, search content, post comments, and share knowledge.
What's new?
We have now built greater visibility into the process for enhancements and improvement creation, so that customers always know the status of their requests. We also needed a way to get more information about these requests, which helps us evaluate the merits of adding or changing features in the product.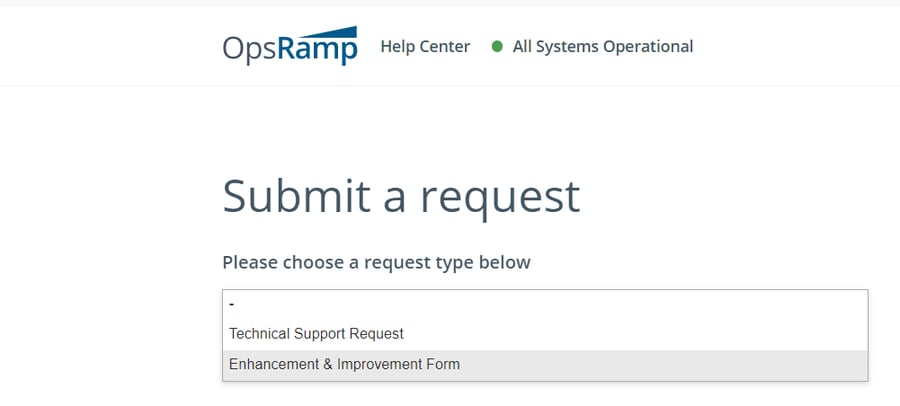 Here's the new and improved way to submit your feature requests:
Click on the Contact Us tab. From here, you can either initiate a support ticket or select the drop-down option to create a Feature Request.
Fill out the feature request form. Here's where you can describe in detail the request, and the business reason behind it.
Click submit and track progress. Click on the My Activity page to see the status of your request as well as that of any support tickets. The status could be "Feature Considered," or "PM Review," for example. You can send questions or ask for more detailed updates about your request, anytime.
At OpsRamp, we strive to help IT infrastructure and operations teams deliver optimal experiences and performance for users, ones which can further business innovation and business outcomes. And we're dedicated to building the same optimal experiences for our customers and partners.
We'd love to hear from you as to how we can improve. Login to the OpsRamp Community and join the conversation!
Next Steps: