IT leaders need a well-defined strategy for managing patches and upgrades for software applications and technologies. Planned patch management rollouts help combat security vulnerabilities as unpatched systems are highly vulnerable to data breaches and attacks from hackers. During Covid-19, IT organizations have struggled to keep systems updated using remote teams, especially as software vendors have recently released a record number of patch fixes and upgrades. The sudden rush to massive remote work has heightened concerns over security, with the need to secure personal computing equipment and home Wi-Fi connections.
In our recent Tech Talk, Patching Operating Systems While Working from Home, OpsRamp's Michael Del Castillo talked about why unified patch management is a critical part of the IT operations management strategy. A demo of OpsRamp's patch management capabilities showed how IT operations teams can ensure the availability of business-critical services by addressing potential security issues proactively.
The Need For Patching Operating Systems
Ponemon Institute's 2019 Cost Of A Data Breach report found the global average cost of a data breach was $3.9 million. In the U.S., the cost climbs to $8.9 million, more than twice the global average. Proactive patch management is an important approach to address data breaches:
Financial Implications. Cyberattackers target patch vulnerabilities to gain unauthorized access to run code, install malware, or steal information. Vulnerabilities are the leading cause of financial loss, credibility, and litigation.
Secure Infrastructure. With IT teams working remotely, patching remote infrastructure is even more critical. OS patching is vital to keeping applications current and safe across both on-premise and cloud environments.
A More Scalable Approach To Patch Management
While OpsRamp is not a standalone security solution, the platform offers a scalable approach to patch and vulnerability management so that IT infrastructure is safe and protected at all times. Here are the benefits of using OpsRamp for enterprise patch management as part of our unified IT operations management (ITOM) platform:
Availability. OpsRamp ensures 24/7 availability and performance of enterprise IT infrastructure by supporting both Windows and Linux environments.
Visibility. The platform delivers visibility into potential vulnerabilities with pre-patch impact analysis for patch planning and approvals and post-patch visibility across hybrid infrastructure.
End-to-End Workflow. IT teams can follow a holistic five-step process to deploy enterprise OS patches at scale:

Scan - IT operators can identify missing patches across different versions of a software package by creating jobs to track such missing patches.
Approval - They can manually approve a patch or rate patches using whitelists and exclusions. With a whitelist, patches can be approved globally by selecting several devices at a time. All patch approvals are also recorded in OpsRamp for audit trails.
Configuration - Policy-based patching ensures consistent patch levels for consistent threat protection. Patch install schedules help IT operations decide when to apply patch updates while restart options help enforce system reboot after patch installation.
On-Demand Patching - Patch policies automatically scan servers for missing patch updates for real-time visibility into patch compliance levels.
Reports - OpsRamp tracks patch compliance status with notifications and reports. The consolidated patch report shows all installed patches, the last patch scan date and install date, and the count of missing patches.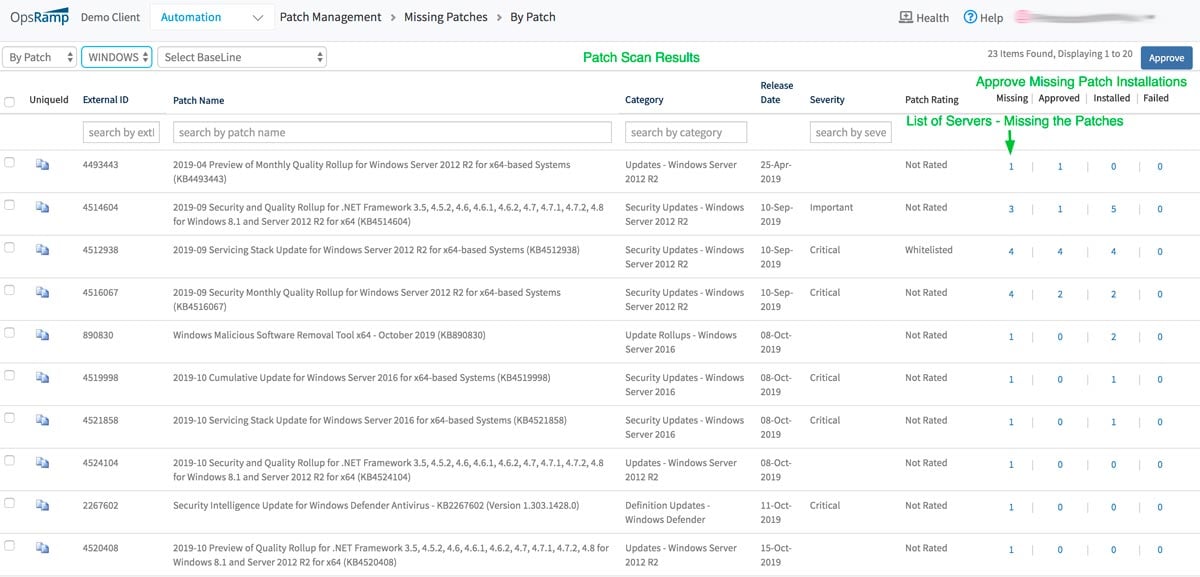 A strong, proactive patch management practice helps organizations mitigate operational risks across the business. Check out the Tech Talk by accessing the webinar slides below or by watching the on-demand Tech Talk to learn more about OpsRamp's patch management capabilities.
Next Steps: