We're pleased to announce the release of Vistara 3.0 this week. Vistara 3.0 features new support for hybrid service definition, monitoring, and management to support today's hybrid IT operations model and the ability to customize its administrator dashboard so your team can focus on what matters most. It also supports custom escalation matrixes and the ability to manage assets over their lifecycle.
How IT Operations Management is Evolving
IT operations management has changed. Today, services are increasingly composed of a combination of internally-hosted services and infrastructure on the private cloud and externally-hosted services and infrastructure on the public cloud. This hybrid IT model creates new monitoring, management, and governance requirements for IT. IT still needs to provide the same monitoring of availability, performance, and capacity utilization as in the past, but it needs to do so for services that may be composed of disparate infrastructure and sub-service elements in a hybrid cloud model. Vistara 3.0 has been designed with this new hybrid IT model in mind.
Hybrid Service Monitoring and Management for the Hybrid Cloud
With Vistara 3.0, IT administrators can now define a composite service that integrates both internally-hosted and externally-hosted elements and services. They can create customized definitions of availability, performance, and responsiveness so that metrics are defined in a way that fits the hybrid IT model.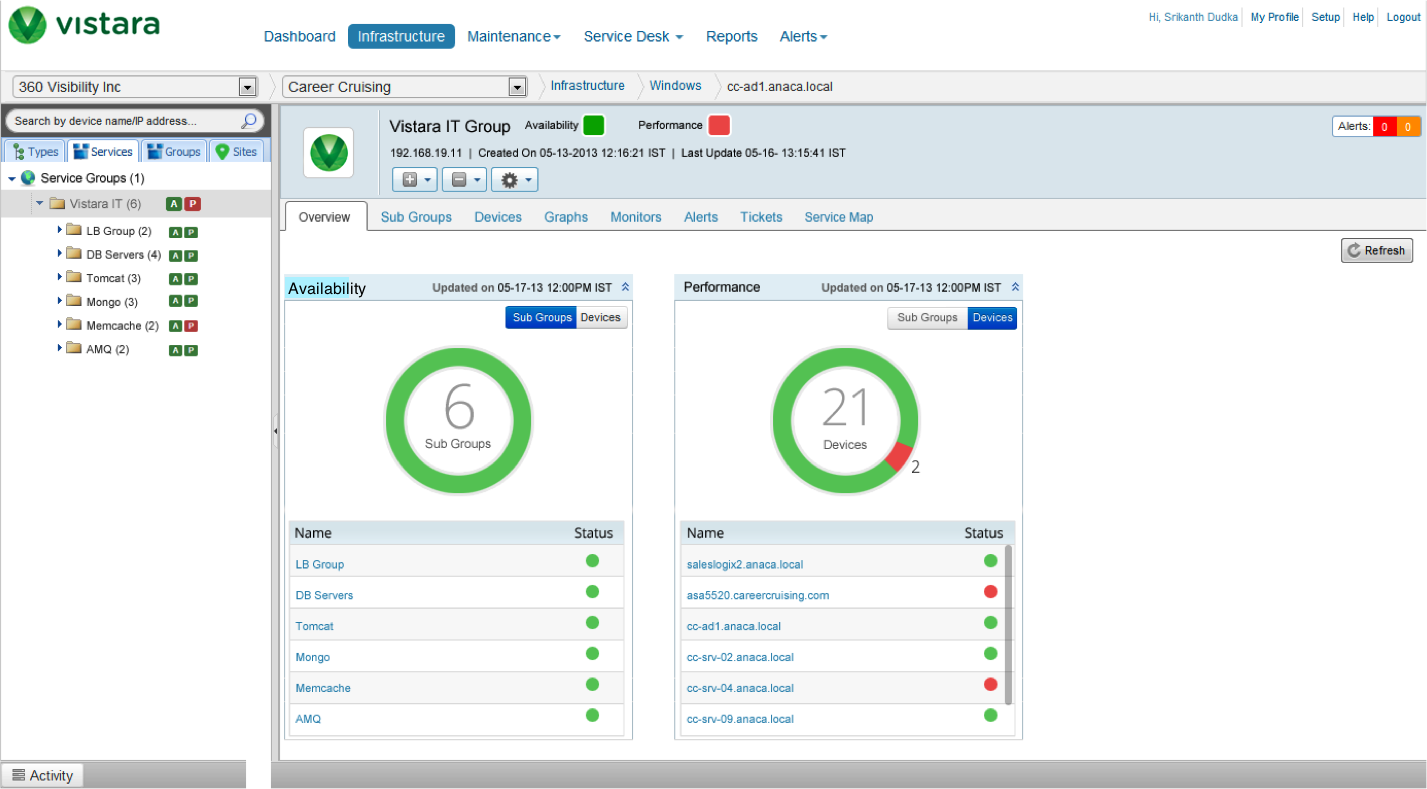 Service Topology Mapping and Navigation
A composite service spanning the private cloud and public cloud can be difficult to visualize and inspect. Vistara 3.0 makes it easy to visualize, navigate, and inspect hybrid IT services with its service navigator. Every service the enterprise defines is conveniently organized in a browsable list, and administrators can quickly drill down to inspect a service's component infrastructure elements and other services.

Unified Alert Monitoring and Management
In the hybrid IT model, your customers don't care whether internally-hosted or externally-hosted services or infrastructure caused an outage; they only care that services stay available and continuously meet their Service Level Agreements for performance and responsiveness. When a problem occurs, IT administrators need to know immediately regardless of where it occurred. To diagnose and isolate the root cause, they need a unified view of all incoming alerts from all sources and the ability to manage alerts identically regardless of the originating element or service. Vistara 3.0 supports unified alert monitoring and management across the private cloud, public cloud, and hybrid cloud.
Custom IT Operations Management Dashboard
No two IT organizations are the same. So why would they have the same heads-up display? Vistara 3.0 enables IT administrators to define a custom monitoring and management dashboard that highlights the particular services and infrastructure elements that are most important for their most critical services, regardless of whether they are internally or externally hosted. Widgets make it easy to construct the dashboard that's right for your team.
Devices can easily be grouped using rule-based service definition. Administrators can define straightforward rules that specify which infrastructure elements and services support which composite services. As new infrastructure elements and services are added, they're automatically included by the composite service definition, meaning your monitoring and management solution automatically scales with the growth of your business.
Improved Support for Application-Level Management
Monitoring and managing infrastructure is important, but infrastructure only exists to enable applications and services. Vistara 3.0 has improved support for application-level monitoring of common enterprise applications including Microsoft Active Directory, Exchange, SQLServer, Internet Information Server, and MySQL.
Custom Escalation Matrix
IT administrators want to be the first to know when a problem occurs. Monitoring and management solutions should chase them down and let them know of critical issues instead of passively waiting for someone to notice and take action. Vistara 3.0 enables IT administrators to define custom rule-based escalation matrixes to ensure the correct responsible administrator is notified every time. Administrators can define shifts, with rules controlling which administrator(s) are notified for each shift. Shifts can be specified in terms of the days of the week and hours of the day, or for
a custom date range such as a holiday period. Escalation schedules can be defined that vary based on the priority level of the alert. Administrators can also define how many times a particular notification should repeat, at what frequency, and across how many shifts until the issue is resolved or the notification expires.
Asset Management Over the Lifecycle
Administrators need a single source of truth that tells them who owns an asset, where it is, when its warranty and service contracts expire, and whether it's currently in operation or down for repair. Vistara 3.0 provides this, plus the ability to synchronize this information with data from trusted external sources. Vistara 3.0 asset management includes built-in connectors for synchronizing asset data with Active Directory and relational databases as well as manually importing information as CSV files. It also has built-in reports that conveniently summarize the information for reporting to management. The ability to automatically import external sources of information is extremely helpful since many organizations are automatically populating these sources with barcode scanners as new infrastructure elements are onboarded.
Improved Capacity Utilization Reporting
IT administrators have always appreciated Vistara's ability to automatically generate an Executive Summary Report as a ready-to-present, fully-presented PowerPoint presentation. This automates the process of preparing for monthly executive review meetings. Vistara 3.0 has added a bar chart to the Executive Summary Report showing the breakdown of servers by utilization level. This makes it easy to see when capacity utilization is growing with usage.
Cloud-Based SaaS Solution for a Cloud-Based World
Legacy on-premise monitoring and management solutions are increasingly unsuited to today's hybrid IT world. Legacy on-premise monitoring and management solutions were never designed with the monitoring and management of externally-hosted elements and services in mind, let alone for composite hybrid cloud services that span the private cloud and public cloud. Vistara 3.0 is a native cloud-based SaaS solution that's a natural fit for the hybrid cloud.